integrative medicine
Posted on: Mon, 11/10/2014 - 8:13am
Integrating With Environmental Illness - Heavy Metals, Biotoxins, Psychology and Energy Medicine
Preface and Overview of Lumigrate's and My History with Medical Models
Lumigrate's development began in early 2007, as a concept that had to develop and find it's roots. read more »
Posted on: Sun, 12/30/2012 - 4:23am
Balancing Body, Mind, Spirit (etc.): Old Year's Reflections Make Way for New Year's Resolutions
The recent snowstorm was wonderful, in my mind. It fell gently yet substantially between winter solstice and Christmas, and provided something for the body, mind, and spirit. Balancing body, mind, and spirit (and etc.) is the key to the wellness/illness teeter totter. I prefer to have days in the time from solstice to the new year comes to reflect on where I am at, what the last seasons brought since the beginning of the year, and before.
read more »
Posted on: Thu, 04/12/2012 - 2:00pm
Finding a Doctor that Fits: Working Together's the Key to Good Medical Care
I could write a book on this topic alone!

The key to good medical care is finding doctors who are capable of integrating multiple types of medical care into their practice. I said this in the plural form because no one doctor can meet a patient's full needs. But patients should interview doctors like you would interview any employee you would hire for your needs. Only hire the one that you think will make a good fit. read more »
Posted on: Tue, 03/20/2012 - 5:14am
YOU - Do it Yourself Recipe
Lumigrate's 'cornerstone' is the You Model, which essentially is a form of collaborative care model. It was inspired by a model drawn out when I met in early 2005 with a rheumatologist when marketing to his office about my general occupational therapy services offered through an outpatient clinic. I later met with the psychologist in the building my office was in, and we came up with the You Model and went on to co-found and lead an education group for people with fibromyalgia, where it 'worked'. read more »
Posted on: Thu, 01/26/2012 - 10:51am
"Why Did This Happen to Me?" We Ask. My Answers: Raise the Bar!
I wanted to write today about one way a person with chronic illness/pain/fatigue might answer the question "Why is this happening to me?". I have written another piece in this forum related to chronic illness and the support system around you understanding why it is a person with chronic illness/pain/fatigue might not find the ambition to do things they don't particularly enjoy or 'want to do', but they DO get out there for things they want to do. That's something families and friends tend to not understand and be critical of. read more »
Thursday, September 8, 2011, 7:13 am, by Mardy Ross
"Thank you for inviting me to Grand Junction. There is more promising and inspiring care related to integrated care here than anywhere in the nation." This was the first of MANY "note-worthy" things Dr Frank de Gruy of Denver's CU Med Center (University of Colorado) said last night. I will share the entire presentation with you in the near future here at Lumigrate because it is my 'responsibility' on many levels, including spiritually, to 'get the word out to to all who are represented in the model. read more »
Wednesday, September 7, 2011, 11:48 am, by Mardy Ross
Right now is 'back to school' for millions in the United States, from "K through ...?" One of the contributors to Lumigrate, who has been as more behind the scenes in the past but coming into the pages of Lumigrate in the future is a wonderful man who connected with me and Lumigrate through facebook but who was in Colorado and did a practicum / fieldwork in Grand Junction, so we met and had dinner one night. read more »
Posted on: Sat, 04/30/2011 - 6:54am
Chinese Medicine - Integrating Other Provider Professionals for WHOLEistic Treatment
Chinese medicine in and of itself is the essence of holistic care as it addresses the mind, body, and spirit. When a person presents to my clinic with a chief complaint, all three of the above mentioned aspects are addressed as they are not only inter-related, but also inter-dependent. The wonderful thing about collaborating with other modalities is that we can carry that concept forward as we use multiple treatment strategies to address the mind, body, and spirit. read more »
Posted on: Wed, 04/20/2011 - 3:11pm
Fibromyalgia: The New Integrative Approach. How to Combine the Best of Traditional and Alternative Therapies
This book by Milton Hammerly, MD, with "Putting the total well-being of the patient back in the center of the health care universe" to me, has one of the BEST stories ever from my time seeing patients who had fibromyalgia. Remember what the home page model on Lumigrate.com is ... YOU in the center with the providers all around?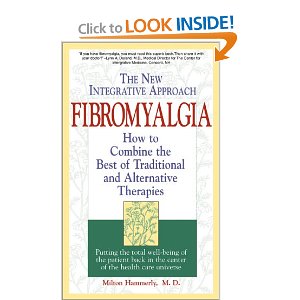 read more »
Posted on: Wed, 01/26/2011 - 5:41am
Embrace The Rainbow…Live with Intention
Embrace The Rainbow…Live with Intention. By my colleague Ms. Webster
(Mardy's note -- This piece embraces the aspects of integrative medicine so it appears in all the forums related to body, mind, spirit approach to wellness it discusses.)