Supplements and Disease Prevention by Dr. Scott Rollins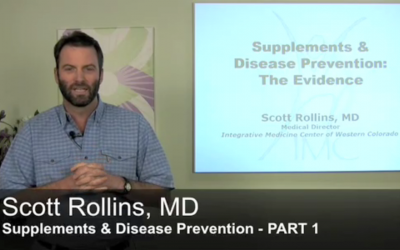 $0.00
Mardy's Thoughts: I remember the day when there were a handful of supplements on the market -- you took one a day and it provided the recommended daily allowance (RDA), and we marveled at better living through chemistry and we didn't think much more about it!
But decades ago many different theories started evolving about the amount and type of supplements and there are now about 2,000 brands on the market. The number of choices is overwhelming. So I asked Dr. Rollins to do this seminar back when the Integrative Medicine Center of Western Colorado (IMC) opened a year ago, as I knew he was going to be carrying supplements as part of his practice there. And now we make this seminar available to you and hope it is helpful to you.
In this seminar, Dr. Rollins goes into great detail about different systems in the body that can benefit from certain vitamins, minerals and herbs and what those are and why they are important. He describes what oxidation is and why you want to take anti-oxidants. He takes very complex information and uses very friendly and easy to understand analogies to help make things more understandable -- he has a gift for breaking things to the 'real world'.
Sample Video
You'll be able to apply the information to yourself and your family -- you may need to take some notes and put your thinking cap on (and review portions), but proper supplementation can help greatly with anti-aging and disease prevention. Proper supplements and nutrition through diet can help avoid the following conditions: osteoarthritis, osteoporosis, and osteopenia, heart disease and cardiovascular disease, as well as cancer.
Proper supplements also important for liver and kidney support, metabolism (with the obvious connection to type-II diabetes), and ocular/eye health, such as cataracts. Many problematic health conditions have inflammation as a cause or contributing factor, and there are supplements which are anti-inflammatory in effect. As we age, concerns about neurologic diseases such as Parkinson's and Alzheimer's abound, as well as breast cancer, prostate cancer, the risk of which can be reduced with proper supplements.
So if you're wanting to better understand how to pick out a supplement (RDA versus DRI (guidelines for amounts)) and quality control (such as ISO 9000 and GMP, or "Good Manufacturing Practice") related to the investment you make in supplements that can help assist your body and mind to better health and well being, this seminar will help light that path for you.
To read the biography of Dr. Scott Rollins, click here.
Price: $0.00
What do I get with my purchase?
Video Download
If you purchase a video download, you will receive a high-quality video of the seminar which can be played directly on your computer. The video is provided in three formats: MPEG-4 (.mp4 file), Apple QuickTime (.mov file), and Windows Media Player (.wmv file). If you do not have a program on your computer that automatically plays media files, you will need to download one of the following:
You will also receive as part of your download a PDF file of the presentation slides, and various supporting documents such as checklists, recommendations, and guides. The supporting documents are typically about 25 pages of additional content. To view these documents you must have Adobe Reader installed on your computer. If you do not have Adobe Reader, please download it by clicking here.
DVD
If you order a DVD, you will receive a packet including the DVD disc, presentation slides, and related documents. The entire content is three-hole punched so you can place it in a binder and start your collection! It is our goal to have DVDs to you very rapidly, but they are a special order item so timelines vary.
Want to read comments about this product, offer your own feedback, or discuss other collaborative care topics? Visit our Lumigrate Forums.
Products discussed in the Seminar