Strategies for Lasting Change by Dr. Paula King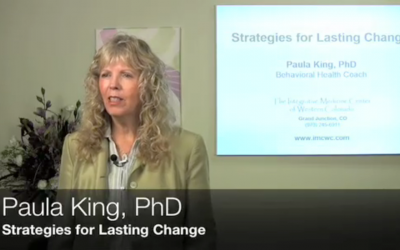 $0.00
Mardy's Thoughts: For people in good health or people with acute diseases or chronic illness, making change can be difficult. This interactive seminar, by Dr. Paula King, takes you through an exercise using handwriting to explain why we have difficulties making change and getting into better habits. It also includes a guided imagery exercise, helpful during the process of making new habits.
Other Lumigrate seminars on such topics as food sensitivities, detoxification and cleansing, supplements and disease prevention, and hypothyroidism point the way to improving health through changing your daily routine in order to achieve the health you are working towards, and this seminar can help you to achieve better results.
Sample Video
The information in this seminar can also be thought of as an introduction to mindfulness meditation techniques which is very helpful in chronic illnesses such as fibromyalgia, chronic pain, anxiety, depression, post-traumatic stress disorder (PTSD), heart disease, cardiovascular disease, COPD, asthma, headache and migraine headache, autoimmune diseases such as arthritis and lupus. The technique you can learn in this seminar is a very strong "light" for your path to health and well-being.
To read the biography of Dr. Paula King, click here.
Price: $0.00
What do I get with my purchase?
Video Download
If you purchase a video download, you will receive a high-quality video of the seminar which can be played directly on your computer. The video is provided in three formats: MPEG-4 (.mp4 file), Apple QuickTime (.mov file), and Windows Media Player (.wmv file). If you do not have a program on your computer that automatically plays media files, you will need to download one of the following:
You will also receive as part of your download a PDF file of the presentation slides, and various supporting documents such as checklists, recommendations, and guides. The supporting documents are typically about 25 pages of additional content. To view these documents you must have Adobe Reader installed on your computer. If you do not have Adobe Reader, please download it by clicking here.
DVD
If you order a DVD, you will receive a packet including the DVD disc, presentation slides, and related documents. The entire content is three-hole punched so you can place it in a binder and start your collection! It is our goal to have DVDs to you very rapidly, but they are a special order item so timelines vary.
Want to read comments about this product, offer your own feedback, or discuss other collaborative care topics? Visit our Lumigrate Forums.