About Us

Above, Mardy fall of 2010 twisting to pose and be fit like a jigsaw puzzle into the landing page graphic her high school friend Greg Mann, Son of Mann Graphics now of Tulsa, Oklahoma created, with minor Photoshop help, and in 2013 with nothing but cropping, from a childhood friend at reunion for those from Mardy's elementary and junior high (which is the area the show South Park is about, just imagine how fun Trey Parker's class is when they get together). The model used for the stock art that was originally put into the landing page was clearly not with the neuro-orthopedic limitations and difficulties Mardy has, it might not look uncomfortable, but it was. But thankfully, due to many things learned, trialed and 'errored' even, she's able to do the things she does for self and with her work, and is 'lighting the path to health and well-being' for those who wish to utilize Lumigrate and / or her advise.
How to Contact Mardy Ross, About Mardy, Lumigrate and the Mardy Pop-Ins Consumer / Provider Services
Mardy Ross is all about consumers at this point -- consumers -- YOU -- have the power. This started as the cornerstone YOU! Model of her work in 2007 that lead to the creation of Lumigrate in 2008/9.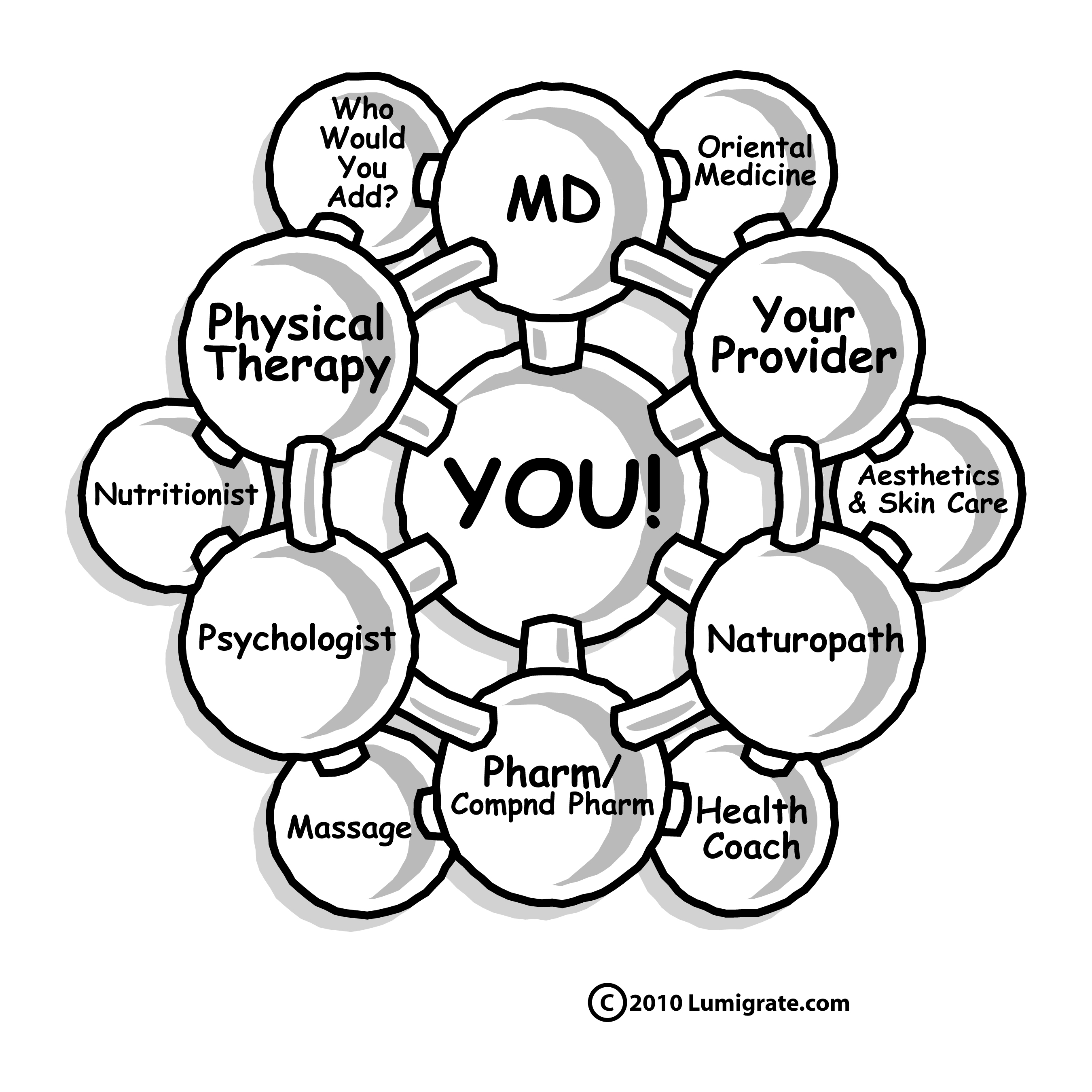 This work requires education as a foundation, which requires time and energy on the part of the consumer, often beyond what they have the capacity to 'do', which is streamlined by Mardy's expertise in education over the vast array of issues she can provide a guiding light.
Mardy has created topics on Lumigrate since it's launch in 2009 when the needs arose for advising people in her work. She continues to do this if there is an area where she's sending people for information --- it's more time effective in the long term to create a topic on Lumigrate that EVERYONE from that moment forward on the Internet can utilize! So yes, it will feel like 'all she's doing is directing people to her website' but that's the unique beauty of Lumigrate!
Consumers of laundry products, body care products, food, drink, supplements and medicines, herbs, oils, etc, or those intersted in becoming users of such products will find information at Lumigrate today. The most frustrating situation Mardy encounters is someone who is aware and trying to learn, but they have so much on their plate that they aren't able to find their 'path to health and well-being' and put desire into 'action'. Sometimes this is for themselves, but often for a child or other family member as well. Ultimately people are operating within their 'systems'.
This sometimes is a pet. Mardy experienced the frustration of veterinary medicine and complex, chronic conditions with her beloved cat in 2012 and 2013.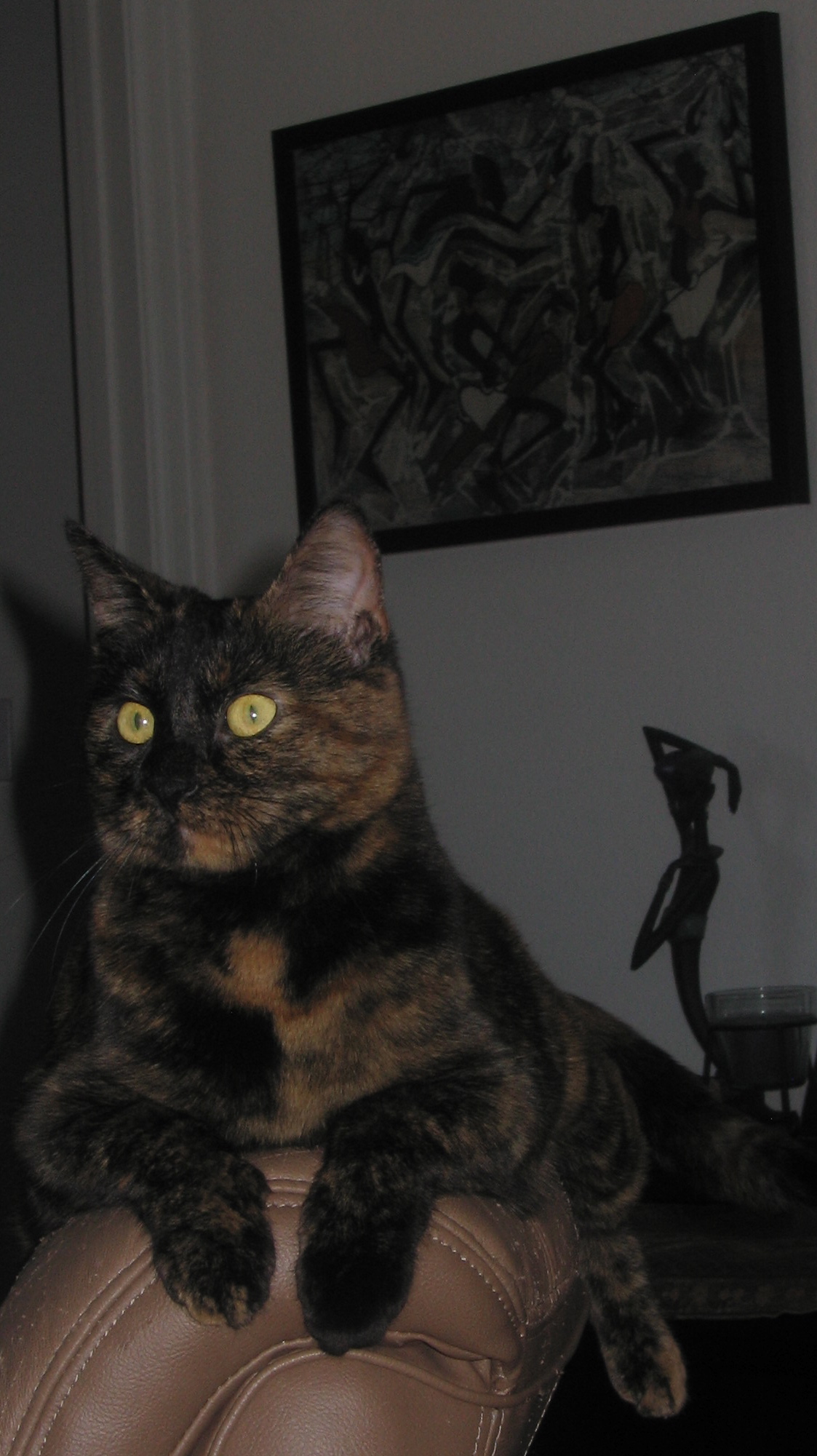 In 2003/4 she'd seen her therapy dog's hearing affected immediately after vaccinations which were required for her to be boarded or work with Mardy. Restoring her hearing started with finding a veterinarian who happened to like to research 'outside the box', which was total "chance" -- his office was in eye-shot of the temporary home Mardy had rented when moving across the state to Grand Junction, Colorado. So helping make the contacts for people, and teaching them how to do that 'legwork' is something Mardy does with consumers desiring assistance she can provide.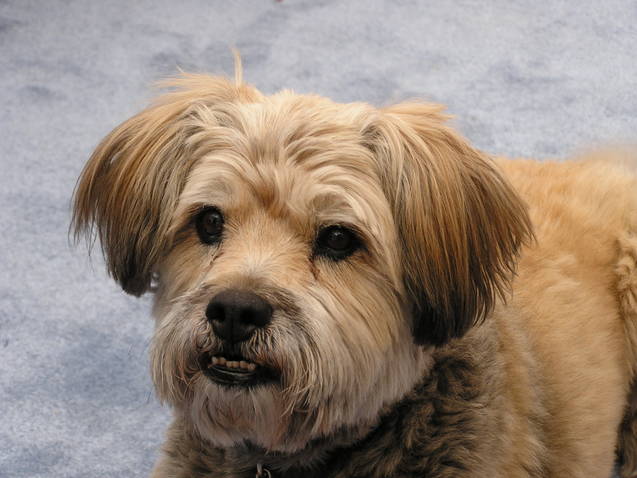 "Scooter the Wonder Dog", Spring 2004, when on drops to restore hearing. She'd gotten 'the wonder dog' when her adoptive family lost her initially and she found her way home after several days -- they wisely left the door open when away at school and work and returned home and she was there, many years before Mardy was to encounter her via her owner once he had an empty nest and a dog who clearly enjoyed going for rides and interacting.
Navigating the myriad of products for food, fleas, ticks, vaccines, bedding, toys, and how to train and discipline can be as cumbersome for guardians of pets as it is for those who are guardians of children!
Mardy's 'niche market' are consumers who are making it a PRIORITY to WORK on their wellness, and who want to do that in as natural and 'common sense' and 'no fuss' way as possible. After YOU have read a bit here, you'll find her contact information. If you feel it's something for YOU, please utilize it!
Mardy also helps market select providers, by bringing them to the table, so to speak, with the consumers who are interested in what they'd have to say. So if you're a PROVIDER and would like to have this opportunity, please give a call (or email, or Facebook). Be sure you get a response, as we all know it's hard to keep up with all the places we have for people to get ahold of us.
At Lumigrate and with Mardy as an advisor, it's all about consumers who are EDUCATED, and providers who are educated and therefore making strides to PROVIDE SERVICES that are making a difference in what people put in their bodies, on their bodies, and what gets in their bodies (such as things in the air) as well as the water and the overall environment. Making one purchasing change every time YOU go to the store can result in a major transformation over the course of a year but it's a lot of information to learn and apply.
Therefore, Mardy can Pop In (and Pop Out) and advise about a wide variety of things. Outside the box providers typically don't have big budgets but do need to reach the consumers who are Mardy's niche. The people who want this kind of information typically are used to paying for tax preparation advise, legal advise, hair style advise and doing, but not an advisor about how to shop, how to cook differently, how to clean differently, do laundry different which ALL add up to contributing to the wellness / illness level within a home.
This can be very superficial and practical without getting philosophical and historical BUT in order for consumers to know easier what brands to purchase, where to go for information, it's to their advantage to learn enough about The System to be empowered and potent. Otherwise they're impotent and actually are being taken advantage of. Who wants that? Mardy doesn't, and she'll help YOU learn individually and in an economical way how.
If you're an individual that is a medical / health consumer or provider and are interested in what's outside the box of convention and how the system is going about things and how to get what YOU want in life for your body or your business, Mardy might be someone that can help you get there in an economical way.
History:
Mardy created Lumigrate beginning with seeds planted in 2007 when she created a successful live seminar and education group series, utilizing the YOU! Model, which became the cornerstone of her work since, empowering patients to become educated and proactive about the symptoms they experience.
"Functional medicine" (finding the underlying cause or causes and addressing them) and looking at the whole of body, mind, spirit -- whole person, whole system/family/group ("holistic") and the most natural means of addressing things are merged with the appropriate tools from allopathic, mainstream medicine. Aside from two years around the turn of the century/millenium when Mardy specialized in figuring out if young or other people were capable of safely driving and how to boost their brain-body connectivity working in an innovative 'outside the box' driving program as their director of rehabilitative driving services, Mardy's entire 'OT career' from 1994 to 2008 was within the allopathic system of 'mainstream, organized' medicine.
Experience in skilled nursing, assisted living, independent apartments for 'seniors', acute rehabilitation, subacute rehabilitation, psychiatric, behavioral health, driving rehabilitation, inpatient hospital, outpatient hospital and last but not least home health care all are environments Mardy has work experience. Hand therapy experience she has, wheelchair seating and mobility experience too.
She wanted a wide range of experience with her early internships so has observed in schools and BOCES programs. A great deal of experience came from being a clinical advisor from 2005 to 2009, brining outside the box concepts and an OT's perspective to the behavioral health clinic that was in the allopathic building she contracted in.
Their co-founders were a married couple who provided a great deal of collaboration and education both ways and balanced the 'physical therapy' infusion she got in the building as she contracted through the PT clinic (as there was a non-compete clause so she couldn't 'work' in the behavioral health clinic despite it was a better 'fit' professionally). The year was 2005, and Mardy had been invited to become the occupational therapy service provider in the large, beautiful, new and very mainstream medical building which was under construction when she arrived in Grand Junction, Colorado, for what she thought was going to be three weeks -- that was December 2003!
It was meant to be, there was no reason at all to move to the west end of Colorado from the Front Range where I'd been born and lived and rarely even traveled out of state or country from. My gut told me that I was supposed to move to Grand Junction, Colorado. And the story that unfolded from there, and the timing of events, I have said, would make a good book someday, and likely could take a fence-sitting atheist/agnostic off the fence! ~ Mardy
Grand Junction, Colorado, located on the Colorado River where Interstate 70 goes through the Grand Valley just east of the Utah border, it turns out, is one of the 'seats' of health care reform in the United States. Utah holds the data storage for the United States, or some of it and much of the newer storage, and just over the state line is where the electronic medical records company and health maintenance organization and other interrelated, symbiotic businesses came to be planted decades before.
When presenting at a conference in Berkeley, California in 2009, Mardy was approached by a woman from the audience who said "I knew where Grand Junction was when you said you are from there, because it was in New Yorker Magazine recently, in a story about places where health care is better in the United States." Once Barack Obama was underway as a leading candidate for President of the United States of America, and once he was elected in what had a lot of red-flag raising moments that Mardy noticed and started wondering about, he and his fleet of people and planes were in Grand Junction quite regularly. Someone who bought a home in the area in the mid '90s, Mardy heard, was working in Washington once the Obama era was ushered in. "Why would that be?" Mardy said in 2009 hearing that. And so it began ........... little by little Mardy worked to learn what was affecting her and her business and people she knew personally in terms of how the System worked.
In 2012 and 2013, Mardy went further into what is called 'the rabbit hole', learning about the System, which she light-heartedly calls 'the monkeys and their monkeybusinesses' in her work at Lumigrate and in person. Mardy feels this is critical for people to know about, health providers as well as consumers, because she knows how many things didn't add up before that did after she more fully understood things AND how much wasted efforts and miscalculations she had in going about trying to bring REAL health solutions to her patients and clients.
Examples: She'd spent hours of her workweek time in 2007 trying to get the IV service and doctors in the allopathic medical building to learn about Myers Cocktails that helped people with chronic pain and fatigue, the masses they identified as having "fibromyalgia" but then gave them nothing but pills addressing symptoms, which typically made the patients worse in one way or another. They were angry and would be relieved and cry when they got to the education forum where 'someone finally understands what I have'. She'd think that going to the Grand Rounds medical education would help the System see what they were not seeing and they'd come to network with the 'outside the box' providers and themselves integrate more things such as NUTRITION into their practices. How futile THAT was, particularly as the shift came with the era when Obama was the chosen leader to have become the candidate that would be the one facilitated or not encumbered in order to win. Nonetheless, the System does shift -- it has to -- because it's MONEY BASED. So the CONSUMERS ARE THE ONES IN CONTROL, they just need to realize that! And embrace it! And act upon it!
That attempt naturally went nowhere because, as Mardy came to fully realize 'down the rabbit hole' HOW the mainstream, organized, medical System was more corrupt than she'd realized, WHO was involved, and WHY it wasn't wanting to have any part in doing such therapies at that time, or allowing her to say to patients 'your condition is one that is affected by foods causing inflammation'.
Knowing what she did from having paid out of pocket and gone outside the system for some of her heath care at that time and now all of her health care for five years unless it was for an injury and surgery, which is one area allopathy shines in and really does help people, Mardy felt she was lying by omission to her patients she serves, so left mainstream at the end of February 2008. An innovative center concept had gelled and for that year and that year only, the original team was together (with others that were added that weren't part of the concept, leading to the demise of the team and Lumigrate and Mardy having to 'make it on their own' after that.
It provided an 'immersion' with a naturopath, acupuncturist and medical doctor who was learning his way out of allopathy to where he wanted to be which was in 'integrative medicine', where he provided hi-tech and non-natural things such as lasers for skin and fat, hCG hormones for fat, Botox and other expensive and less than 'natural' strategies to get to the root cause or causes of people's health issues. ALL these experiences that lead to a wide and deep fund of knowledge is what YOU get when looking at Lumigrate or utilizing Mardy as an advisor.
Mardy's method is about doing the WORK, the old fashioned way, but that requires a lot of help and support sometimes. She is versed in the tools of the trade for insurance-based medicine and advises patients on how to look into providers that may be what is the right 'fit' for them. We're all on a very long journey from being raised in the allopathic system to wherever we're going and Mardy's skilled at assessing where a person's head is at and taking them the steps in the direction they're wanting to go and then letting that gel for a while and seeing if they wish to go further.
Mardy wants ALL people to learn the basics to be competent about The System and those who run the system and the businesses and how it works, including the education system because ultimately educating people about health care has EVERYTHING to do with how they've learned to be consumers and how they learn and think, etc. Convergent thinking versus divergent thinking is something that frequently comes up in her discussions with individuals (or groups). So you're getting a very thorough and broad advisor with Mardy and with her website, Lumigrate.
From 2008 to 2014 Mardy was building the content at Lumigrate.com, with the input of experts, both local to her in Grand Junction and national (and one international natural healer and former RN in Australia, who Mardy continues to learn from about the similarities of the US and Australia and their people, Lulu and Mardy have incredible similarities in their personal histories even and the US lags behind Australia in the reforms the System has underway). Mardy focused initially on helping people to find Lumigrate by learning of her on Facebook, and then get to utilizing Lumigrate, if they found it a fit for them. The website has continued to enjoy slow and steady growth in terms of numbers of people finding and using the content.
Mardy's background in occupational therapy and in health education lead her to realize that the most beneficial place to help people with their learning and changing of things is by going into their homes or businesses for a short or longer period of time to show them how to change their ways and implement things they have learned or are in the process of learning. This can be for an hour or so or for an extended stay, depending upon what the situation is. "Systems theory" comes into play, which Mardy studied in a hands-on way with an expert in that field in 2007 in what was a 'fate meant to be'.
In 2015, "Mardy Pop-Ins" is a new program Mardy offers (with the email mardy.poppins@yahoo.com , the email written out as 'poppins' being less confusing than the hyphen in pop-ins). Phone (US) 970/462-8662; text or call. Also, you can find Mardy Ross on Facebook very easily due to the unique name (and the profile pic should look similar to what you see, above).
Examples of educational assistance provided: (Can be done in person but also via telephone, email, FB, etc., a mix of both if people are local to where Mardy lives)
Creating your current and ideal YOU! Models and strategizing with how to go from current to ideal team.
Helping people with possible providers to apply for becoming 'patients of', when their area is with a supply/demand problem and / or when their insurance or funding otherwise is limited. "I've applied and get turned down" can be alleviated by those Mardy selects to represent being connected to providers they consumer is wishing to connect with.
Going through current supplies of cleaning products, body care products, foods and drinks to apply concepts found on Lumigrate (which Mardy can direct to) or other places to decrease toxins and increase wellness.
Discussing and learning about EMFs (electromagnetic frequencies), which can have significant impacts on wellness. Routes for remediation and lowering EMFs in the home, car, etc.
Safe Water - Safe Water is Great -- quantity, quality, how to obtain or make safer or clean/safe water for drinking, cooking, showering, bathing, washing the pets, etc.; ozonation, etc.
Adapting usual routines for foods/diet to incorporate changes desired by the person/family.
Laundry processes for improved wellness and a healthier person / home / family.
Medical history "detectiving" together with person (and their family or close friends, neighbors, etc. who can be their patient advocate and helper).
Adaptive equipment to increase safety and independence; Mardy has years of occupational therapy experience to draw upon as well as her own family member's end of life in addition to advising as Mardy PopIns as an education concierge.
Assess if people are needing more assistance and oversight in their home. (Mardy was certified in Assessment of Motor and Process Skills early in her OT career (graduated Colorado State University 1996 at age 36, her first career was in administrative liaison work at Colorado State University after being a typist initially as a student hourly).
Suggesting routes to explore to find the needed services and products identified as desired/ needed (consumer education / guidance, it's not usually much that people need to get them to new levels higher than they were before)
Suggestions about learning disabilities and cognitive dysfunction concepts and solutions/ education. Education from cutting edge and more conventional about causes, provided.
Education related to driving abilities and priviledges, Mardy has two years experience in driving rehabilitation and helped many young and older people increase psycho-motor skills for driving performance, or advised if they were found to have impairments preventing them from driving.
Seating and positioning and mobility devices, community mobility education, how to make connections with quality / best vendors.
The biochemical approach concept, which entails nutrition and the drains on our bodies leading to nutritional deficiencies that lead to symptoms seen in attention, behavior, personality, and outward physical symptoms.
Why Mardy Pop-Ins? In the right situations, a little bit of focused effort can really turn a situation around. Mardy's favorite movie and soundtrack LP as a child was from the hit movie Mary Poppins, which was the first movie she was able to sit through when she was almost five years old. 30 years later, when in occupational therapy school, Mardy's portfolio project was held up and passed around as the epitome of what the staff had wanted when they said 'be creative'.
Now, another 20 years later, upon getting a massive 'fund of knowledge' on Lumigrate to refer people to if working with them individually (or in groups), Mardy was seeing the difficulties well-meaning people with various 'means' were having finding time to study information about what to do for healing them selves, their children and pets -- their homes AND APPLY IT TO THEIR SITUATION. It's the fastest way to learn! It's the fastest way for someone to be taking action and reversing symptoms and finding the wellness level they desire for them selves or others. Hence, Mardy thought about "popping in" and "popping out -- and being able to follow up with people and go back as needed -- "Mardy Pop-Ins". Naturally, the YOU! Model of Lumigrate is taught -- it's the cornerstone of her work.
Body, mind, spirit is an approach Mardy utilizes at Lumigrate as well as in-person, and also addresses what goes in your body (through skin or stomach, the lungs and breathing, etc.). She was certified in the Assessment of Motor and Process Skills through the occupational therapy foundation she has built her career since upon. Intending to be thorough but efficient, she's already had this success story to relate. This is an example:
A massage therapist who Mardy 'popped in on' to talk about health education seminars heard her say she had the OT background, and the MT recalled her doing hand therapy in the past. Thinking the person needed help with adaptive equipment, Mardy felt qualified to "pop in" at the home of the person if she were to call and invite her to do so. Which eventually occurred. It turns out Mardy's fairly deep wheelchair experience was what was really needed the most, plus Mardy knew of a trick with gloves you can purchase that allow for using touch screens but which also increase the 'grip' on items.
Some other ideas were offered and in less than a week and under $200 in products and service for advise on how to be a medical YOUser, the person AND their team mate for advocating/ helping were with a plan and phone numbers, vendor recommendations and even specialists the person and team had been unaware of previously. The total hours spent was about 8, and the person and Mardy negotiated what that person felt was payment commensurate with her experience and what the service was for 'value' to them. They didn't show that part of things with Mary Poppins, she just apparently donated her time; but this is the closest thing to that which allows for Mardy to support herself -- this way the website can stay advertising-free and nobody has to wonder about coersion from advertisers relative to information Mardy provides at Lumigrate. Win, win, win.
In 2013 Mardy spent time with a family she'd been hoping to help with education of parent that would turn into action / proactivity and benefit the family members who clearly had some issues that many in recent years have been reversing with diet and etc. In less than 24 hours the family saw more 'dots' and started to connect them than in years of dabbling around talking with one of the parents from time to time. However, they went their separate ways and didn't take her advise on where to look for diet advise and ended up running with the information they found in the first documentary they chose at Netflix or RedBox or something. "Oh, if I'd only had a little longer to continue with the process a little bit every day as they had time" she thought. She can be in-house with her tablet working on Lumigrate when they're doing their thing and then be doing instructing in person on products and processes that will add up to taking a toxic family and house into a healthy one. EMFs, chemicals, foods, water, behavior, music -- so many facets to address, but naturally starting where most people have priorities, which is foods.
To be able to consistently have in-home, in person contact in an economical way to educate people for consecutive days, in order to simplify and shorten the learning curve for people wanting to change how they shop, eat, clean, bathe, do laundry, etc.
And Mardy also enjoys connecting with consumers wanting outside the box providers, as well as helping to connect or market the providers. They're outside the box, their budgets are thin the same as most consumers', but Mardy can 'pop in' and organize a dinner discussion or other round table or discussion group. Ultimately "Mardy Pop-Ins" is what it seemed the service should be called, with the easier e-mail as mardy.poppins (at yahoo.com). Best to call, but connecting on Facebook (Mardy Ross) or through email is good as well. She does return all she is aware of so if you don't get a response, try another route or try again. (A good policy with anyone today, there are just too many places to keep up sometimes and more cracks than ever, it seems.)
If you're wishing to refer someone to me, let me thank you in advance, and give you my word I will do my best to make it a worthwhile experience for all involved.

I prefer you either tell people to call me, as that's the best way to reach me and be sure you reached me, OR sometimes people are a big shy or unsure about why they're calling a person who has OT experience but is doing more education and concierge work... where do they start, it's unfamiliar to them.

So if it's okay with them, since what I'm doing is not medical but is consulting about function and education, ask if you (or your assisting staff) can call me and give your number and that way I know right from your mouth what made you think I might be of benefit to this person entrusted to your judgment. I'd equate it to if you were a provider in England and Mr Banks or Mrs Banks was your client/ patient and you thought Mary Poppins might be able to help them -- and that's how she learned of the need in the Banks' household. Hopefully by explaining what I do in comparison to the books and movie we all know (typically), this will help people see what type of service this is and how to go about getting me involved ~ Mardy

---

Note, it's difficult to update the number on the website for the 'contact us' (Mardy did it once, then couldn't do it again -- she's not a "techie person", which many relate to!), but it's easy to do in this about us area so she was able to put it here -- the current number, updated in July 2015, is above.
Contact us at Lumigrate comes to Mardy, HOWEVER, when the email is full, which unfortunately occurrs from time to time, it will fail. Mardy at Lumigrate dot com is her e-address (which is what fills up, same as the contact us). If you get a returned email and see this, try the email address, above. Best bet as of mid 2015 is use the mardy.poppins@yahoo.com ....
The Lumigrate Cornerstone and Foundation
"Shining our light of knowledge to illuminate the path spanning from "chronic wellness" to "chronic illness", while assisting YOU to become the center of your health and well-being." More simply written in our logo as "Lighting the Path to Health and Well-Being". Our cornerstone is our unique YOU! model, hence, people using Lumigrate are referred to as YOUsers. It was only after this that Mardy stumbled upon this quote:
Each patient carries his own doctor inside.... We are our best when we give the doctor who resides within ... a chance to work. ~~ Albert Schweitzer, MD



Welcome! The model was created in a brainstorming session by Mardy Ross, Lumigrate's founder, in response to a request by an allopathic MD specialist, a rheumatologist, relative to what patients with complex chronic illness needed with a host of providers they'd see over the course of a year.
That was early in 2005, when Mardy had just 'hung out a shingle' within a PT clinic in an allopathic medical building in Grand Junction. It was two years later when the first patient with a fibromyalgia diagnosis initiated getting orders for OT from her physician and Mardy directed her to the right PT for her needs as well as to the chronic pain psychologist at the behavioral health clinic in the building. Inspired by the collaboration and the synergy that the patient experiences from a team of providers who were in close contact, they met and brainstormed what Mardy remembered the 'rheumy' saying two years before and the Lumigrate YOU! model was born thanks to the unique talents of Dr Young (the pain / psychologist).
The initial materials Lumigrate provided included the collaborator, Chris Young, PhD in video and forums as well as other providers who collaborated in 2008 with an attempted integrative medical center in Mardy's 'home base city'. However, things for everyone at the center did not go according to plan, and Mardy was on her own with Lumigrate since 2009/2010 timeframe.
Rapidly, Lumigrate was to include experts from around the US and as far away as Australia, whose contributions are seen in forums. Lumigrate went live on the Internet in late March of 2009, and has remained independent with funding so as to have the ability to provide what is considered appropriate and desired content by the YOUsers' demands which show in what's read and what's not (among other things). Here's the link to the forum where some of the experts have created topics about themselves so people can see in one spot the diversity and uniqueness of the expertise at Lumigrate for our YOUsers. www.lumigrate.com/forums/introduction-lumigrate-lg-101/about-lumigrates-forums-writers
We hope our "YOUsers" find something of value from Lumigrate, and realize we're into in-depth 'peeling of the onion' which is not for everyone. Lots of websites out there, we're just here for YOU if YOU like our style! Our typical YOUser has a specific motivation or motivations that spur them deeply to put the time and energy into the resources available.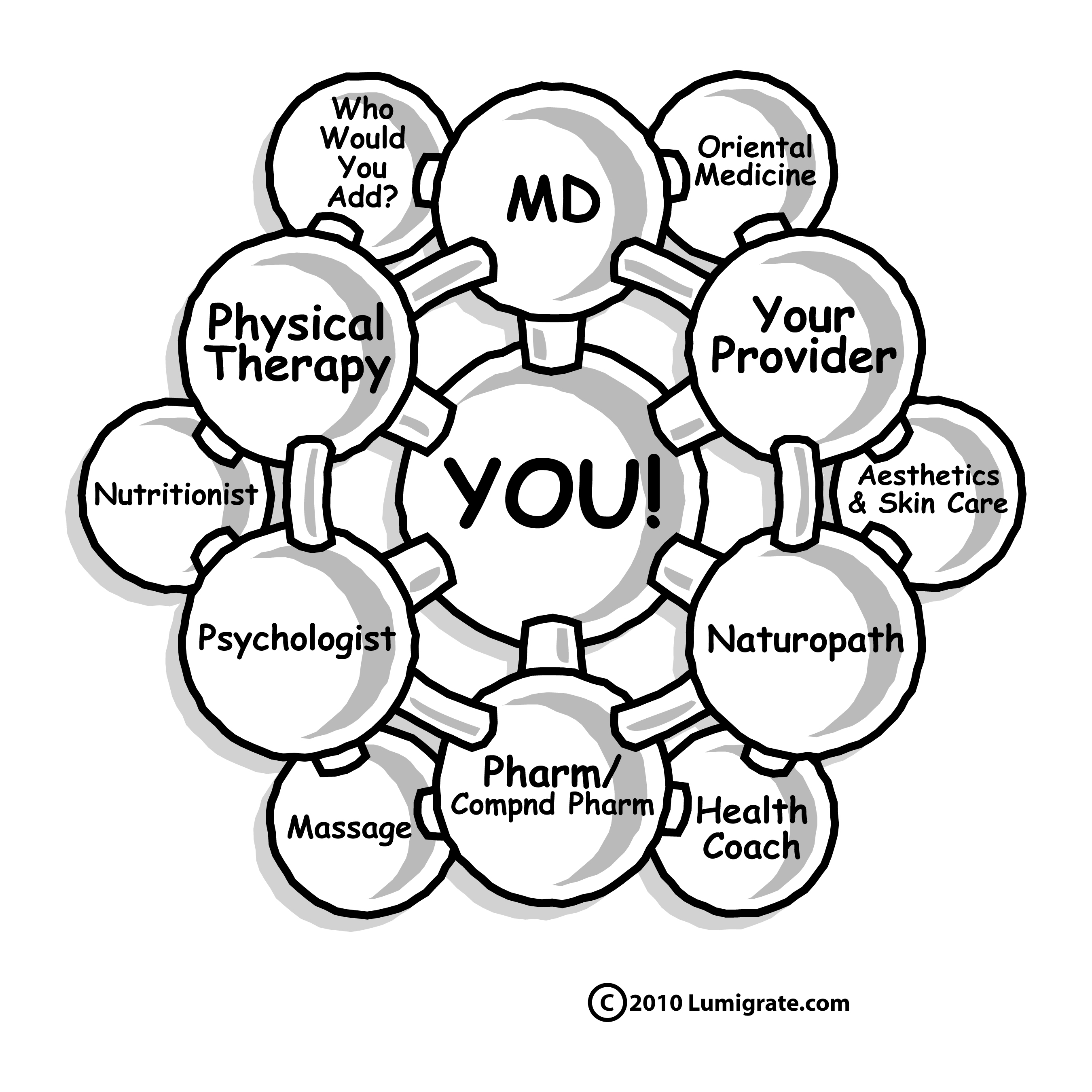 Our Core Belief
Each person can experience their ideal level of health by being in the central role of their health care. For many, this is a 'paradign shift', as the health care system in the United States and beyond has not trained us to think that way in the past. Medical providers and insurance companies had the medical records, and if they communicated to each other, it left the patient literally 'out of the loop'.
We currently are in a transition where electronic medical records and other technologies have been increasing the inclusion of the patient, but there is much in that transition which is difficult for some. Not being adept at technology or having access to it, security issues, feelings about privacy and what is going on with the information being collected has factored greatly into the health care systems of each YOUser.
Some of the more basic statements patients have said which indicate this unhelpful mind-set that has come from the allopathic, conventional model of medicine most experienced in the US (and beyond) are things like "The doctor put me on ____ ", "I had to give up ____ (something I enjoyed drinking, eating, smoking or doing)", or "they are giving him ___ amount of time to live". This is a big clue as to who the individual thinks is in control of their health! "I gave up (whatever it was I was doing) on the recommendation of ________" is a powerful shift in thinking. "The prognosis is he/she will live another (X amount of time)" as well. These are very powerful shifts.
We also work to not use the conventional terms like 'the diabetics' and remind that it is people who have diabetes because many things are reversible for many people and it's important to put the person first and the descriptors about them after so they are reminded those are things that were attached to them at some point and can be removed possibly. Importantly, our experts often have picked up these habits from being exposed to the usual way of discussing things in medical circles. We're in this together, learning from each other is an important premise of Lumigrate -- the experts from those with the conditions, and you'll see this represented in many conversations in the forums from our formative years when we were able to focus our resources on integrating qualified consumer/patients and providers.
"Lighting the Path to Health and Well-Being" is our hope!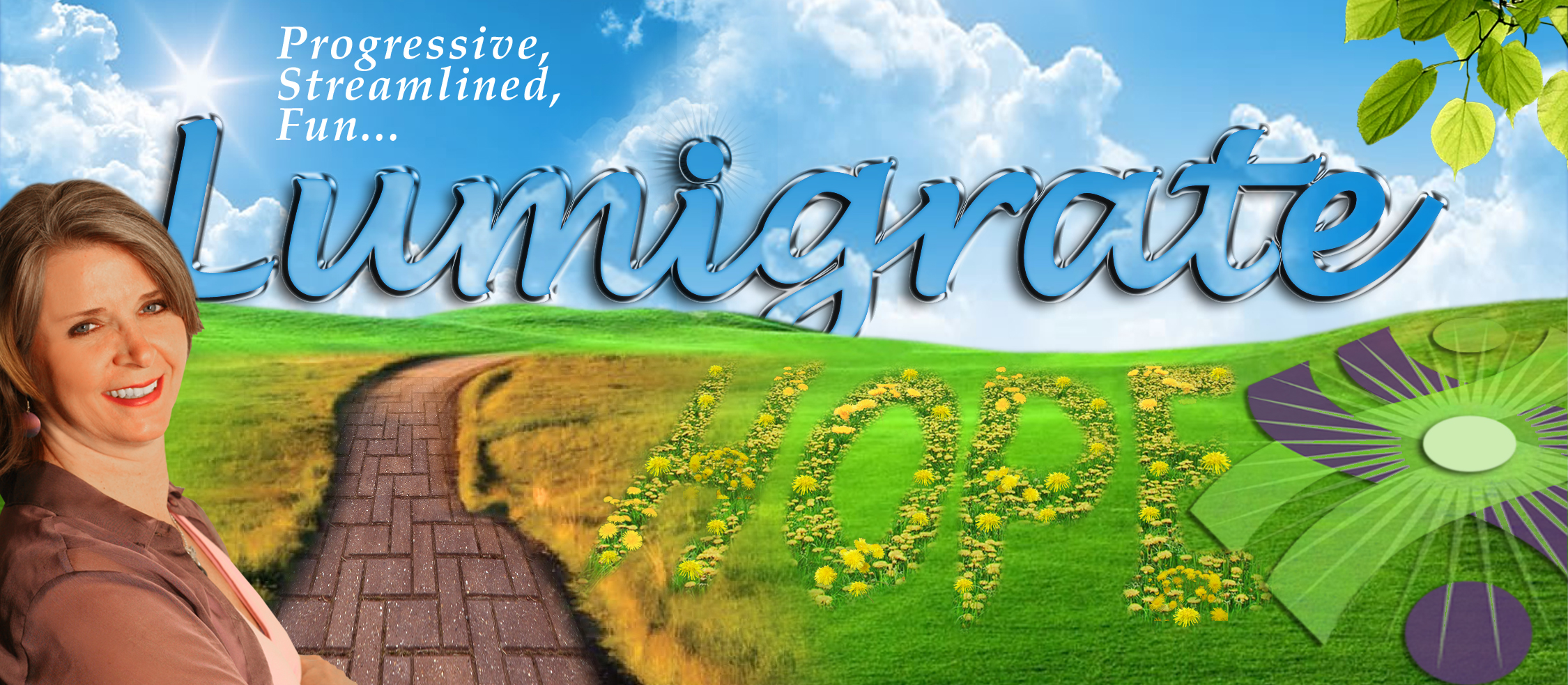 In the five years from when I started planning what launched in early 2009 as "Lumigrate.com" to our third anniversary in 2012, statistics on chronic illness rates went from 40% to 50% in the United States. The collective costs are staggering, and have been increasingly stressing and 'breaking down' our country overall. But the country is made up of individual people, and I saw a way of contributing to "health care reform" by making available information from integrative, functional medicine which has proven itself to me personally as being the way of reversing chronic illness.
Lumigrate is a mix of the words for light and integrate. You'll see this represented in the light coming from the center of the woven ribbons. "Integrate" means "to bring together and mix together", basically, and Lumigrate has always brought the concepts of integrative medicine and functional medicine, which gets to the root causes underlying symptoms. Integrative and functional medicine models are NOT 'alternative' -- they utilize some of the many great things offered from conventional, allopathic medicine, just not as a first and only resort. Pharmaceuticals can be included in treatments, when used as necessary when other more natural strategies have not adequately addressed the problem or it is clinically reasonable to intervene with it at the start or at any point.
It is 'holistic', looking at the whole person. Sometimes this is broken down simplistically, as in integrative medicine, as 'body, mind, spirit', but there are other models that use more groupings. We use various models here, but to simplify, BMS is used as it is becoming well-known and well-used in the United States (and beyond). Mardy Ross' background is in health education and occupational therapy and she utilizes a 7-layer model when looking at a person's life, with a focus on occupation and vocation (two different things but interrelated as how you make your living (vocation) is also one of the things that occupies time of the person).
The various provider discliplines represented for our YOUsers at Lumigrate share a common belief in the wellness model, not the illness/disease model of medicine, and ideally there will be as much respect given to what a good massage therapist brings to the YOUser to collect as information about them (and their body/health) as the medical, osteopathic doctor, a.k.a. "physician". Ideally with the YOU model, there is collaboration related to sharing information and the patient benefits, but this is going to differ depending upon the reality of the person/YOUser.
In allopathic medicine where insurances are involved, it's not part of the reimbursement for time in order for providers to communicate. This has left the patients/consumers running around in the middle of things, and unless someone gives THEM (YOU!) the 'power' that comes from having the information that's pertinent to YOU and your health in your hands, at your fingertips for YOUser to be studying and providing as needed to others to help them in their health care time, they're 'the odd man out' frequenly. They do not feel empowered. They will likely not be as proactive as they would otherwise.
Proactive consumers become more dedicated to their health when they go through the WORK to get the advise of providers! Today this increasingly has meant finding information on the Internet. YOUsers are not the patients who have the attitude of 'I go in and you fix me .. and take care of the billing and someone else pays for it.' This is the big shift that has occurred or is occurring in the United States (and beyond) and Lumigrate's niche is serving those who resonate with the YOU model, and we help people who want to shift to do so.
Unfortunately, many people so not have access to this type of advise in their 'live world' -- it's great when people do have the resources. In Mardy Ross' live community in the middle part of the first decade of the 21st century, where Mardy had reversed a long-standing chronic illness condition, the weekly live education group she started with Dr. Young helped many of the community members who attended who had not been able to afford to have private consultations with providers who didn't take insurance by having them speak to the group in conjunction with the patients who did go sharing their treatment plans and stories.
Mardy wanted to create a website where people could come and VIRTUALLY have that experience through the education on the website. Additionally, Mardy had, as an occupational therapist, worked with many of the attendees who had insurance that her clinic accepted, relative to the 'occupation of being a health care consumer', and on Lumigrate this translates into being a 'health education concierge' essentially. This is similar to what is called a 'health navigator' in some medical circles and models. Lumigrate offers YOUsers for the occupation of health care a website with a growing cache of information where we provide a variety of topics that alleviate their time / energy by teaching some concepts about how to Search for resources as well as selecting suggested routes/links, setting up the information for easier use, and teaching or reminding YOUsers there are often many sides to look into and consider and there are many different right answers for the many different people out there. It's up to YOU to decide what your opinion is and what YOU are goign to do or not!
NOTE: The videos at Lumigrate.com are a 'snapshot' of the formative year of providers who all put their efforts and resources into an integrative center in the medical 'hub' between Denver and Salt Lake City (USA, Colroado, Utah, respectively). Only the MD who owns the center remained affiliated with the center within years after, with Lumigrate and Mardy Ross being disassociated in March of 2010, one year after Lumigrate launched. However, several of the original experts continued on from their separate locations providing their expertise. only year, the first, where the original team of people with "D" after their name, were part of the center. It was a priviledge to be immersed in the mileau of as close to an integrative center as there had been in the area and the steeping amid such an outstanding group of providers from the varioius disciplines who originally had constructed the desired vision gave Mardy a solid foundation in integrative and functional medicine: naturopathic doctor, doctor of acupuncture and Oriental medicine, psychologists (two of them), health navigator, and naturally the medical doctor.
The original plan, unfortunately it was one of the first shifts that lead to the unraveling of the planned center concept, included Mardy in the role of navigator and marketing / outreach with weekly live seminars which would be produced when appropraite to be on Lumigrate didn't come to fruition due to a NP with navigation being brought in at the last minute. Without Mardy being the one taking each new patient's calls, becoming familiar with them and their needs, formulating the education and then bringing that all together, Mardy had to improvise and so Lumigrate went to producing seven videos for launch from the repertoir the providers had given in the first six months at the center. And by the time that was all edited and onto the website, the center was unraveling; to be clear, the center is still in existence so please look them up and go if you wish, it's just a completely different crew with the MD.
So we rapidly pulled in new 'threads' of expertise from other experts in the vacated position of MD and ND. Nutrition, compounding pharmacy and supplementation of nutrition are examples of experts who were found from the East to the West Coasts of the United States. meetings and discussions we had formally or informally, and Mardy selected a handfull of the seminars presented to produce for the launch of Lumigrate.com.
Dr Paula King, one of the psychologists who is a nationally and internationall recognized expert in 'guided imagery', 'mindfullness', and the mind/body connection for performance in activities including athletic endeavors, provided a seminar addressing the 'resistance' people have to changing habits. Since at the time it was shown that 1:8 people were needing treatment for hypothyroidism, a video was provided about the signs and proper testing and treatment for hypothyroidism.
The MD also provided a video about supplements for health and wellness or disease management. Detoxification and cleansing and food allergies of the IgG type were provided in seminars by a naturopathic doctor who had come from the traditional college Bastyr. It was a full complement of video information but in reality what occurred was the videos tab and snippets were intriguing to people but they wanted the faster, readable information in Forums.
So we pulled in a mix of national, international and local providers who Mardy vetted as much as was possible, and we set to weaving information. More lessons were learned in this stage of the game. But overall there were providers who were up to our standards of ethics and abilities to meet the demands of remote patients looking for education. Unbelievably a trigger point therapist in Virginia is able to translate much about the hands on body work he does and ergonomics and positioning he looks at to the Internet, as an example. Or an award-winning author about proactive patients who 'take charge', who is a bona fide patient advocate as of 2013.
We also were able to provide enough auditory / podcasts in 2010 and 11 to get accepted for an iTunes channel so people can find Lumigrate and become a YOUser at the website where we continued to build content consistently in the forums. Increasingly this was done by Mardy herself to add new things in the spotlight and integrating and directing to what our experts already had provided at Lumigrate. It shows how it gets a little easier every year. It's very much like pregnancy, delivery, infancy, toddlerhood, childhood, etc.
By year three, a significant 'benchmark' in websites such as ours, we had about 2,000 items in the forums, written by top national and regional providers as well as experts on health because they've experienced challenges, the iTunes / podcasts, the videos from the formative year, and a loyal following of YOUsers, most importantly.
Here's the deal: What Lumigrate provides, if people get on board, is a cheaper way, overall, of doing health and wellness care. The conventional model the US has operated with in the US and is transitioning to other things, with Lumigrate here to be part of this shift, is based on illness care. Allopathy, it is focused on pathogens and what to do about them. It's had it's heyday and the hand has played out with successes and eventually problems which now just about everyone is aware of.
In 2013 some of he providers at Lumigrate provided services as an adjunct to the conventional services a woman in the Grand Junction area was receiving and they tallied their costs and documented her going from being appropriate to be filing for disability benefits to climbing mountains! And the price tag was a surprisingly low $10,000 that were donated by the providers in total. This included a year of oversight and navigation by Mardy, a year of chiropractic which was lessened in cost by synergising with a movement therapist who provided techniques for self-help for the forever future for the patient. Life coach for six weeks, plus the holistic dentist's receptionist helped the team and patient learn of her being appropriate for vocational rehabilitation services which she'd somehow now been aware of.
Due to Colorado's funding issues at a time with increased need by people with disabilities seeking employment, there was a one to three year list the patient was on but at least she's on the list now. There is a Feb 12, 2013 blog post that has a link in it to take you to the topic in the forums, but the topic is about the Grate Groove and Billie Green. Thanks to all who participated, and that would include Friends of Man, Department of Human Services, the Marillac Clinic, State of Colorado Vocational Rehabilitation, the Groove members, and most of all Billie, who allowed us to see how much we as providers can learn by using a model like the YOU! model, even when not with the benefit of being under the same roof, witht he same phone system, computer systems for communication, etc. All providers said they were pleased to participate and also learned from the collaboration.
A Message from Mardy
From this one person, me, to each other person, you, who will find Lumigrate on the Internet and then hopefully Print, Email, Link/Share what you find that applies to your situation and help shift YOUR health care system a little bit, or a lot. Change can come from the 'bottom up' or the 'top down'/inside/outside, however you want to look at it. By communicating about it to family, friends, neighbors and others in your community who would be appropriate, powerful changes can occur.
I have seen it happen, too! In 1997, my health was being dramatically helped by a relatively simple but little-known intravenous nutrition therapy my second integrative care MD had offered after other things were not helping my chronic fatigue. My job required me to work four hours away for a while, so he suggested I find a doctor in the area I would be working who would learn from him what it was and how to do it, and he'd send me with the supplies they would not have in their clinic.
In the two months I was working out of town, EIGHT other patients health was improved by that one newly educated MD having something she didn't know to offer previously, and her career path turned and went in the direction of integrative medicine as a result! It's a GRATE example of how the patients have such a role in overall health care progress, and it's one of the main concepts conveyed overall at Lumigrate.
The time spent in a provider/consumer appointment can be much more efficient if the person is educated prior to visiting with their health care professional. The majority of people in the US now use the Internet for health education, but none had the type of information which I referred people to in my consulting with them about functional health concepts. So I created a 'tool' that simplifies my pointing individuals or groups and organizations related to working on their health care, and other professions can use it as well with their patients. Naturally, the consumers can find the information as well, and if anyone has a question, I'm available for consult! Simple questions are complementary, and I charge reasonable fees for more extensive consultations.
I label what I do as a "Functional Health Navigator Consultant", because the word 'occupation' throws people off; I became an occupational therapist in 1996 after working in health education and environmental research administration. "Vocation" is how one earns money. Anything a person does which occupies time is an 'occupation'. And occupational therapists are, by the sheer nature of what they do on a health care team historically and 'ideally', the central 'hub' of the health care team as it is about the function of the patient/consumer in applying all the other aspects of the team advising.
What we're all doing is what I have termed 'the occupation of health care'; aspects of this are covered within insurance reimbursement for those who have it and who can afford the copays. Other aspects are not, so that changed what OTs 'do' with people, and that was literally breaking up the 'holistic' aspect of the occupational therapist's role in the team. Eventually we were relegated in the majority of jobs available, to be doing very basic, common-sense things with people, and when money is tight, people cannot afford the high rates that it costs for treatment in insurance-based clinics. So this is a way to reach more people at less cost to them or their payor sources, and I can have less overhead than in a big clinic as I had been working.
Often it's not money that limits what expertise people have, it's their geography, so through technologies and a cash-pay model such as I and the other providers at Lumigrate offer, they have a 'virtual integrative center' with some of the best providers in the United States! I am able to help people 'wherever'. I hope to bring innovation to the disciplines of occupational therapy and health education by blending my past experiences professionally and offering something which will help increasing numbers of people at a lower price. It's beneficial for ALL concerned. I hope you or your organization are one of them.
What We Do
Lumigrate.com serves as a robust platform for "self-serve education" related to chronic illness and the prevention of it. We have content for those who want to stay well, or get back to being well. I work to get diversity of opinions on all topics because people sometimes have been trained to 'just do as the doctor says to do', but that is only one provider's opinion based on their training and it might not be the truth for the patient. So they'll do best to get a feel for the concepts and what THEY believe and then get the expertise and input of their providers on the topic.
If anyone has questions, I am available to direct them within Lumigrate or offer suggestions outside of Lumigrate. I believe in not recreating any wheels that are out there which are good ones, but to link to them. So often a 'gap' in what we have will be rapidly filled in the process of finding information for someone. For individuals or couples/groups, I am available for consulting more in-depth or have a network to refer to, depending upon the situation.
My particular areas of expertise are in chronic illnesses or conditions that affect the brain and nervous system, aging in the home and making recommendations for support and assistance, hospice and palliative care transitions, and the ever-increasing numbers of people concerned about safety for driving due to medical impairment or medications.
If allowed to do a thorough overview and review, I typically find things which have been missed which make a great difference to the team and individual at the center, and it typically saves money for the person or their team. It's simply a matter of years of experience combined with the skill set I have, which is the holistic of my body/mind/spirit. I was asked in my mid 20s to sit in on interviews in my organization because of my ability to 'read people' or see things that others did not. My mother was like that, it's just a gift, and I use it to YOUR advantage when I consult.
Lumigrate.com currently has video for audio/visual learners, written forums for those who prefer reading, podcast for those who prefer audio and the freedom of listening while doing other tasks, a products area which reinforces the items referred to in the educational videos and routes people to see the products at other websites, including the ever-familiar Amazon, and the blog, which is used a bit differently than most sites. Our first year I reported there on seminars I attended and there were many readers following but then it was difficult to find information so I transitioned to writing in the Forums like the other providers.
I also recruited some talented people who were un- or under-employed due to their chronic illness to share in writing at the forums. I tend to put a lot of detail in my pieces and appreciate others writing more 'typically simplistic', but sometimes it will be one detail or a few that string together in a piece that resonates and makes the reader realize they might benefit from closer attention.
In order to provide thorough class-like seminars, there are six hour-long seminars on a complement of topics, plus a 20 minute video about the concept of how chronic wellness goes into illness using the analogy of a 'full barrel'. With a simple registration and ordering/shopping cart process, links will be emailed to the e-address provided which are simply clicked on to watch. The seminars are accompanied by written information compiled by the professional provider who appears in the recorded seminar without endorsement revenues or any type of financial return, it ended up being an opportunity for them to have more exposure and reach more people with the information they want to share related to their speciality within health care.
Our Goals
To be a valid source of progressive information integrated with conventional, in order to steamline the process for information-seekers of this type of content, and make it FUN as well.
I have strived my entire life to be honest and ethical, and to interact in a mature and professional manner. All people and the organizations they create are 'works in progress', myself and Lumigrate included. I work hard to have Lumigrate reflect that; contrary to popular belief, I am not gifted with technology, though I am a fairly good typist and hopefully am becoming as skilled at 'writing'. I work to strike a balance of getting the content so BADLY needed, and delivering it with a level of quality that is at least adequate.
As an occupational therapist you always start with a long-term goal then break it into short-term.
Long-Term, my goal is for there to be an entity which I created as Lumigrate in 2009 which will serve to help people who want this type of information for beyond my lifetime. I wish for it to be profitable and financially able to support other programs and people in their endeavors related to health care and change which will be of benefit to others.
Short-term goals are to:
Impact as many people in a week as I did when in insurance-based occupational therapy: Met our first week.
Support my personal needs for income and needs of the business. (At year three, which is the typical benchmark, we are right on track for this to occur).
Provide reimbursement to people who put their time towards Lumigrate who are on disability or unable to work to their capacity due to their health issues; innovative programs which will also benefit their health. Example: Consultations with medical professionals who do not take insurance for reimbursement.
Facilitate the goals for providers who write on Lumigrate, either directly from paying customers or by increasing their value as a recognized expert. Most of the providers on Lumigrate who are medical professionals do not take insurance and have done this out of choice due to reasons surrounding limitations from what they can advise about, the drain caused financially with increased overhead by dealing with insurance, or general ethical and moral issues related to organizations they had to deal with if they worked within 'the general system'.
Grow professionally and be able to have a business which I can work at for a long time and into what some would call 'the retirement years'. Work less hours eventually, but maintain a strong presence and force for change or maintenance in the new systems of medicine which I forsee coming into play within my lifetime.
In summary, it has been and will continue to be a time of great change in the medical system and I felt I had much to contribute with my unique background and what I had to work with in terms of investing with my resources of time, energy and money. Through a collaborative process of others contributing their resource of time and energy (and expertise), Lumigrate is here to share with others who wish to participate as our customers, followers, 'guests'. I believe there will be unending opportunity to have a positive impact.
We focus on serving the United States only due to the complexities that other health care systems in other countries add to the confusion, but we hope that what is presented at Lumigrate 'works' for as many people 'beyond'. We see each person as being part of the Earth's people, and that the Earth has an impact on each person's wellness, it's an inter-related relationship. So there can really be no 'boundary' on it. We are mono-lingual with English.
Lumigrate appreciates the ability of the Internet to reach people in remote and urban areas alike, and was inspired in 2007 by the people -- providers and the consumers alike -- who "wished to attend" outnumbering those who could at a seminar series I organized with the input of the consumers who came to an ongoing live educational forum. The weather, busy schedules, or poor health and pain were limiting their attendance, but not their desire for progressive health and wellness information.
While I have to challence myself daily to use technology, I am thankful for the Internet and also thank all who have been along for even one minute of this ride and look forward to where we go in the future.
I HOPE Lumigrate helps you today ~~ Mardy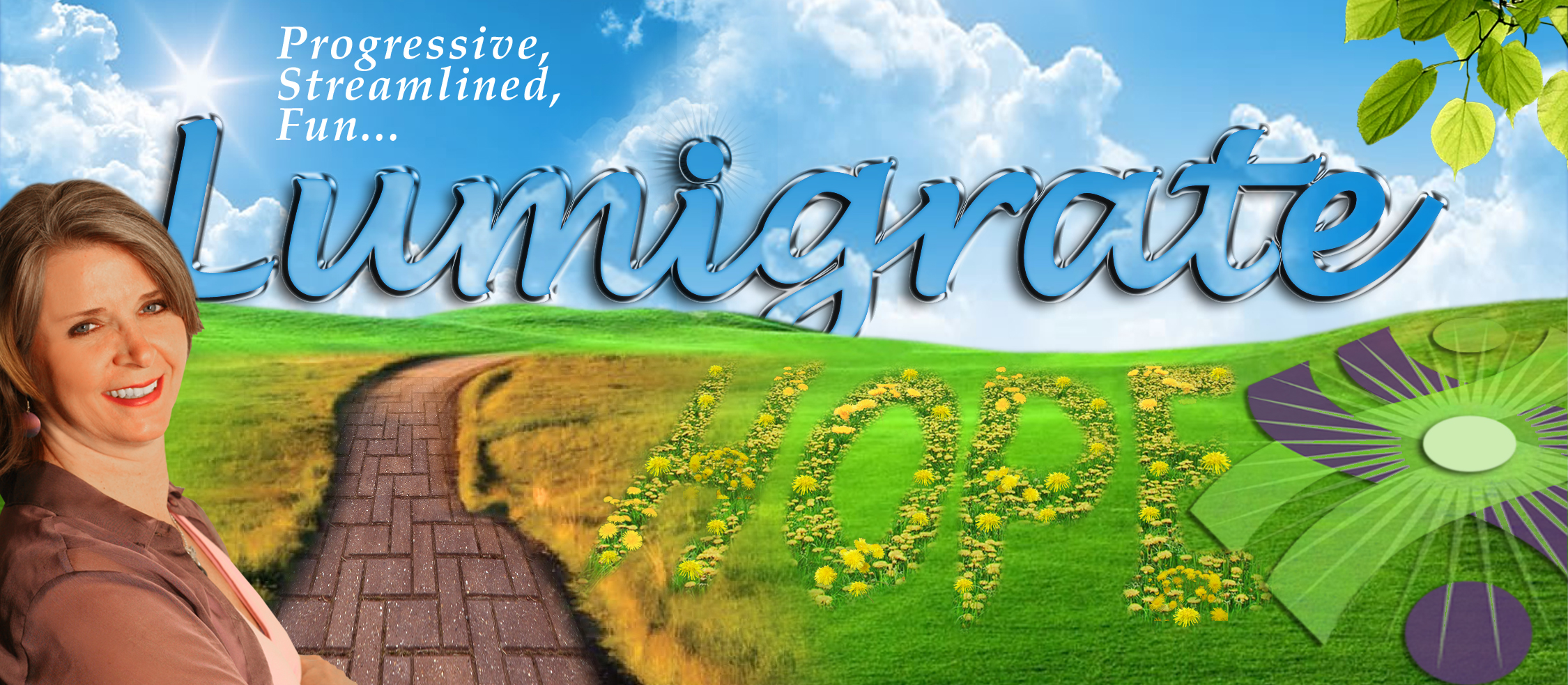 "Contact Us" comes to me, so please do if you have any questions, comments, requests. Please see my biography/vitae in Forum, the forum is near the top and is titled 'About Lumigrate's Forum Writers'. For your ease, mine is at this link: www.lumigrate.com/forum/mardy-ross-otr-and-founding-executive-director-lumigrate