About Us
Our Foundation
"Shining our light of knowledge to illuminate the path spanning from "chronic wellness" to "chronic illness", while assisting YOU to become the center of your health and well-being."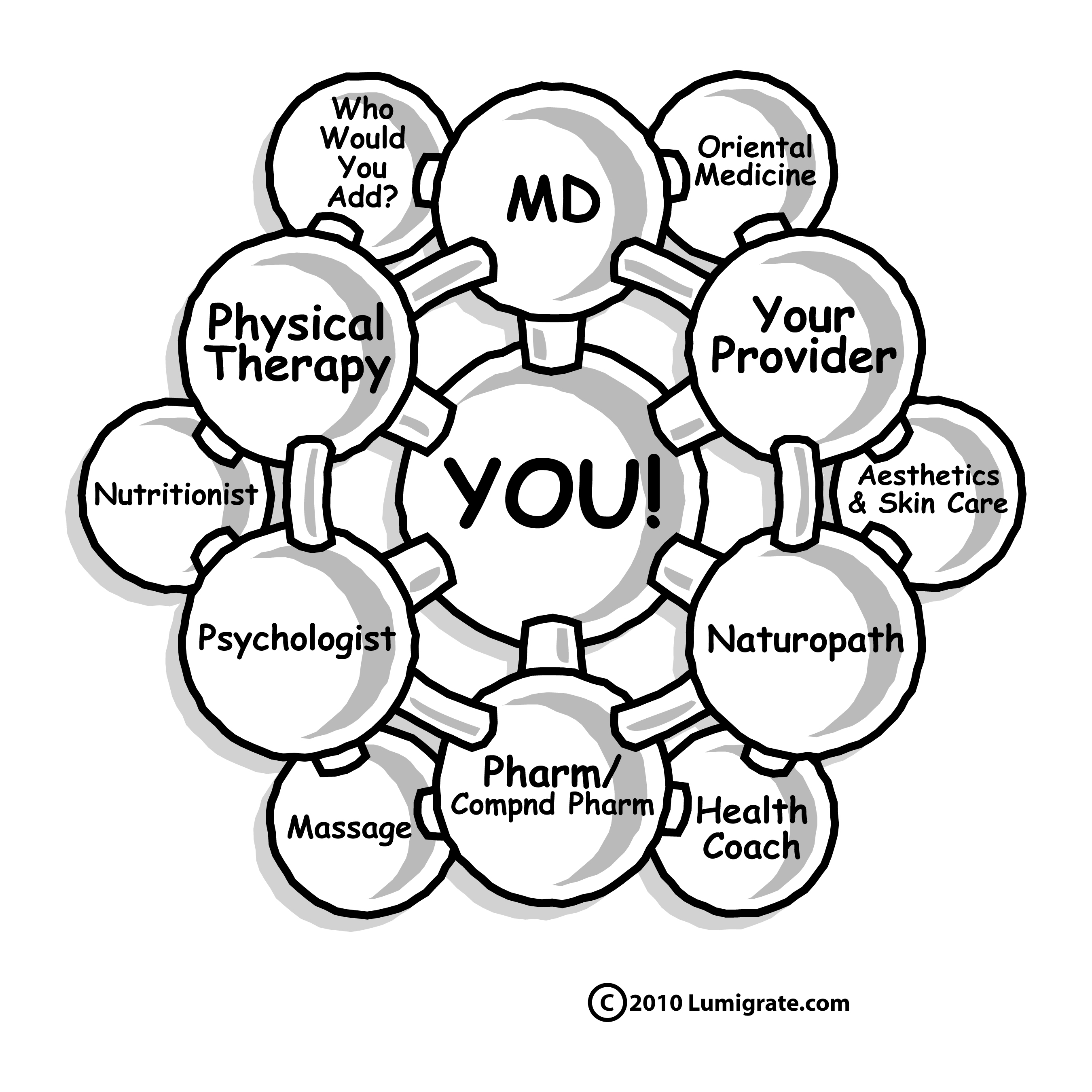 Our Core Belief
Each person can experience their ideal level of health by being in the central role of their health care. For many, this is a 'paradign shift', as the health care system in the United States and beyond has not trained us to think that way in the past. Medical providers and insurance companies had the medical records, and if they communicated to each other, it left the patient literally 'out of the loop'. We currently are in a transition where electronic medical records and other technologies have been increasing the inclusion of the patient, but there is much in that transition which is difficult for some.
Statements patients have said which indicate this unhelpful mind-set are things like "I had to give up ____ (something I enjoyed drinking, eating, smoking or doing)", or "they are giving him ___ amount of time to live". This is a big clue as to who they think is in control of their health! "I gave up (whatever it was I was doing) on the recommendation of ________" is a powerful shift in thinking. "The prognosis is he/she will live another (X amount of time)" as well.
In the five years from when I started planning what launched March 27 of 2009 as "Lumigrate.com" to our third anniversary, statistics on chronic illness rates went from 40% to 50% in the United States. The collective costs are staggering, and have been increasingly stressing and 'breaking down' our country overall. But the country is made up of individual people, and I saw a way of contributing to "health care reform" by making available information from integrative, functional medicine which has proven itself to me personally as being the way of reversing chronic illness.
"Integrate" means to bring together, and pharmaceuticals can be included in treatments, when used as necessary when other more natural strategies have not adequately addressed the problem. The various provider discliplines share a common belief in the wellness model, not the illness/disease model of medicine, and there is as much respect given to what a good massage therapist brings to the conference table as the medical doctor or osteopathic doctor. There is collaboration related to sharing information and the patient benefits. The majority of the providers contact is not what insurances reimburse for, so often they clinics provide a statement which people are on their own to seek reimbursement for. This is also putting the patient/consumer in the middle! They become more dedicated to their health when they go through all this WORK to get the advise of providers! It's not just 'I go in and you fix me .. and take care of the billing and someone else pays for it.'
But how many people have access to this type of advise? I wanted to create a website where people could come and VIRTUALLY have that experience through the education on the website, and then I would "do what I do" related to advising people as a 'health navigator" at the occupation of health care, and use the website's information as the 'one stop shoppin'" resource for most of the educational needs.
I was part of the discussions and foration of one, and literally, before the interior construction was complete the plan and reality were very different and, while the center has gone on to meet the needs of many people, it was a different focus and type of consumer that my website was going to serve! The videos at Lumigrate.com are a 'snapshot' of the only year, the first, where the original team of people with "D" after their name, were part of the center. It was a priviledge to be immersed in the meetings and discussions we had formally or informally, and I selected a handfull of the seminars presented to produce for the launch of Lumigrate.com.
I also asked one of the psychologists to do one addressing 'resistance', because that is why people spent tons of time learning and sometimes put good effort into changing, and are not ultimately successful. So we had a really "Grate" palate of videos from Day #1, some of which applied to ALL people, one was for the 1:8 people who are needing treatment for hypothyroidism, about the signs, diagnostic tools, treatments. But then the changes occurred so Lumigrate moved out through Internet connections, and was attractive to other providers to post information on and we focused on written and auditory / podcasts for our first and second years.
By year three, which is a significant 'benchmark' in websites such as ours, we had about 2,000 items in the forums, written by top national and regional providers as well as experts on health because they've experienced challenges.
This type of thinking about how to do health care is a paradigm of medicine which is increasingly desired by people due, in part, to economics! It is a cheaper way, overall, of doing health and wellness care. The other model we've operated under is based on illness care, with the shift happening only in my lifetime for advice about prevention being covered, as it previously was for when one became ill. In my mind, it's the silver lining in the economic woes so many in our country face.
From this one person, me, to each other person, you, who will find Lumigrate on the Internet and then hopefully Print, Email, Link/Share what you find that applies to your situation and help shift YOUR health care system a little bit, or a lot. Change can come from the 'bottom up' or the 'top down'/inside/outside, however you want to look at it. By communicating about it to family, friends, neighbors and others in your community who would be appropriate, powerful changes can occur.
I have seen it happen, too! In 1997, my health was being dramatically helped by a relatively simple but little-known intravenous nutrition therapy my second integrative care MD had offered after other things were not helping my chronic fatigue. My job required me to work four hours away for a while, so he suggested I find a doctor in the area I would be working who would learn from him what it was and how to do it, and he'd send me with the supplies they would not have in their clinic.
In the two months I was working out of town, EIGHT other patients health was improved by that one newly educated MD having something she didn't know to offer previously, and her career path turned and went in the direction of integrative medicine as a result! It's a GRATE example of how the patients have such a role in overall health care progress, and it's one of the main concepts conveyed overall at Lumigrate.
The time spent in a provider/consumer appointment can be much more efficient if the person is educated prior to visiting with their health care professional. The majority of people in the US now use the Internet for health education, but none had the type of information which I referred people to in my consulting with them about functional health concepts. So I created a 'tool' that simplifies my pointing individuals or groups and organizations related to working on their health care, and other professions can use it as well with their patients. Naturally, the consumers can find the information as well, and if anyone has a question, I'm available for consult! Simple questions are complementary, and I charge reasonable fees for more extensive consultations. I label what I do as a "Functional Health Navigator Consultant", because the word 'occupation' throws people off; I became an occupational therapist in 1996 after working in health education and environmental research administration. "Vocation" is how one earns money. Anything a person does which occupies time is an 'occupation'. And occupational therapists are, by the sheer nature of what they do on a health care team historically and 'ideally', the central 'hub' of the health care team as it is about the function of the patient/consumer in applying all the other aspects of the team advising.
What we're all doing is what I have termed 'the occupation of health care'; aspects of this are covered within insurance reimbursement for those who have it and who can afford the copays. Other aspects are not, so that changed what OTs 'do' with people, and that was literally breaking up the 'holistic' aspect of the occupational therapist's role in the team. Eventually we were relegated in the majority of jobs available, to be doing very basic, common-sense things with people, and when money is tight, people cannot afford the high rates that it costs for treatment in insurance-based clinics. So this is a way to reach more people at less cost to them or their payor sources, and I can have less overhead than in a big clinic as I had been working.
Often it's not money that limits what expertise people have, it's their geography, so through technologies and a cash-pay model such as I and the other providers at Lumigrate offer, they have a 'virtual integrative center' with some of the best providers in the United States! I am able to help people 'wherever'. I hope to bring innovation to the disciplines of occupational therapy and health education by blending my past experiences professionally and offering something which will help increasing numbers of people at a lower price. It's beneficial for ALL concerned. I hope you or your organization are one of them.
What We Do
Lumigrate.com serves as a robust platform for "self-serve education" related to chronic illness and the prevention of it. We have content for those who want to stay well, or get back to being well. I work to get diversity of opinions on all topics because people sometimes have been trained to 'just do as the doctor says to do', but that is only one provider's opinion based on their training and it might not be the truth for the patient. So they'll do best to get a feel for the concepts and what THEY believe and then get the expertise and input of their providers on the topic.
If anyone has questions, I am available to direct them within Lumigrate or offer suggestions outside of Lumigrate. I believe in not recreating any wheels that are out there which are good ones, but to link to them. So often a 'gap' in what we have will be rapidly filled in the process of finding information for someone. For individuals or couples/groups, I am available for consulting more in-depth or have a network to refer to, depending upon the situation.
My particular areas of expertise are in chronic illnesses or conditions that affect the brain and nervous system, aging in the home and making recommendations for support and assistance, hospice and palliative care transitions, and the ever-increasing numbers of people concerned about safety for driving due to medical impairment or medications.
If allowed to do a thorough overview and review, I typically find things which have been missed which make a great difference to the team and individual at the center, and it typically saves money for the person or their team. It's simply a matter of years of experience combined with the skill set I have, which is the holistic of my body/mind/spirit. I was asked in my mid 20s to sit in on interviews in my organization because of my ability to 'read people' or see things that others did not. My mother was like that, it's just a gift, and I use it to YOUR advantage when I consult.
Lumigrate.com currently has video for audio/visual learners, written forums for those who prefer reading, podcast for those who prefer audio and the freedom of listening while doing other tasks, a products area which reinforces the items referred to in the educational videos and routes people to see the products at other websites, including the ever-familiar Amazon, and the blog, which is used a bit differently than most sites. Our first year I reported there on seminars I attended and there were many readers following but then it was difficult to find information so I transitioned to writing in the Forums like the other providers.
I also recruited some talented people who were un- or under-employed due to their chronic illness to share in writing at the forums. I tend to put a lot of detail in my pieces and appreciate others writing more 'typically simplistic', but sometimes it will be one detail or a few that string together in a piece that resonates and makes the reader realize they might benefit from closer attention.
In order to provide thorough class-like seminars, there are six hour-long seminars on a complement of topics, plus a 20 minute video about the concept of how chronic wellness goes into illness using the analogy of a 'full barrel'. With a simple registration and ordering/shopping cart process, links will be emailed to the e-address provided which are simply clicked on to watch. The seminars are accompanied by written information compiled by the professional provider who appears in the recorded seminar without endorsement revenues or any type of financial return, it ended up being an opportunity for them to have more exposure and reach more people with the information they want to share related to their speciality within health care.
Our Goals
To be a valid source of progressive information integrated with conventional, in order to steamline the process for information-seekers of this type of content, and make it FUN as well.
I have strived my entire life to be honest and ethical, and to interact in a mature and professional manner. All people and the organizations they create are 'works in progress', myself and Lumigrate included. I work hard to have Lumigrate reflect that; contrary to popular belief, I am not gifted with technology, though I am a fairly good typist and hopefully am becoming as skilled at 'writing'. I work to strike a balance of getting the content so BADLY needed, and delivering it with a level of quality that is at least adequate.
As an occupational therapist you always start with a long-term goal then break it into short-term.
Long-Term, my goal is for there to be an entity which I created as Lumigrate in 2009 which will serve to help people who want this type of information for beyond my lifetime. I wish for it to be profitable and financially able to support other programs and people in their endeavors related to health care and change which will be of benefit to others.
Short-term goals are to:
Impact as many people in a week as I did when in insurance-based occupational therapy: Met our first week.
Support my personal needs for income and needs of the business. (At year three, which is the typical benchmark, we are right on track for this to occur).
Provide reimbursement to people who put their time towards Lumigrate who are on disability or unable to work to their capacity due to their health issues; innovative programs which will also benefit their health. Example: Consultations with medical professionals who do not take insurance for reimbursement.
Facilitate the goals for providers who write on Lumigrate, either directly from paying customers or by increasing their value as a recognized expert. Most of the providers on Lumigrate who are medical professionals do not take insurance and have done this out of choice due to reasons surrounding limitations from what they can advise about, the drain caused financially with increased overhead by dealing with insurance, or general ethical and moral issues related to organizations they had to deal with if they worked within 'the general system'.
Grow professionally and be able to have a business which I can work at for a long time and into what some would call 'the retirement years'. Work less hours eventually, but maintain a strong presence and force for change or maintenance in the new systems of medicine which I forsee coming into play within my lifetime.
In summary, it has been and will continue to be a time of great change in the medical system and I felt I had much to contribute with my unique background and what I had to work with in terms of investing with my resources of time, energy and money. Through a collaborative process of others contributing their resource of time and energy (and expertise), Lumigrate is here to share with others who wish to participate as our customers, followers, 'guests'. I believe there will be unending opportunity to have a positive impact.
We focus on serving the United States only due to the complexities that other health care systems in other countries add to the confusion, but we hope that what is presented at Lumigrate 'works' for as many people 'beyond'. We see each person as being part of the Earth's people, and that the Earth has an impact on each person's wellness, it's an inter-related relationship. So there can really be no 'boundary' on it. We are mono-lingual with English.
Lumigrate appreciates the ability of the Internet to reach people in remote and urban areas alike, and was inspired in 2007 by the people -- providers and the consumers alike -- who "wished to attend" outnumbering those who could at a seminar series I organized with the input of the consumers who came to an ongoing live educational forum. The weather, busy schedules, or poor health and pain were limiting their attendance, but not their desire for progressive health and wellness information.
While I have to challence myself daily to use technology, I am thankful for the Internet and also thank all who have been along for even one minute of this ride and look forward to where we go in the future.
I HOPE Lumigrate helps you today ~~ Mardy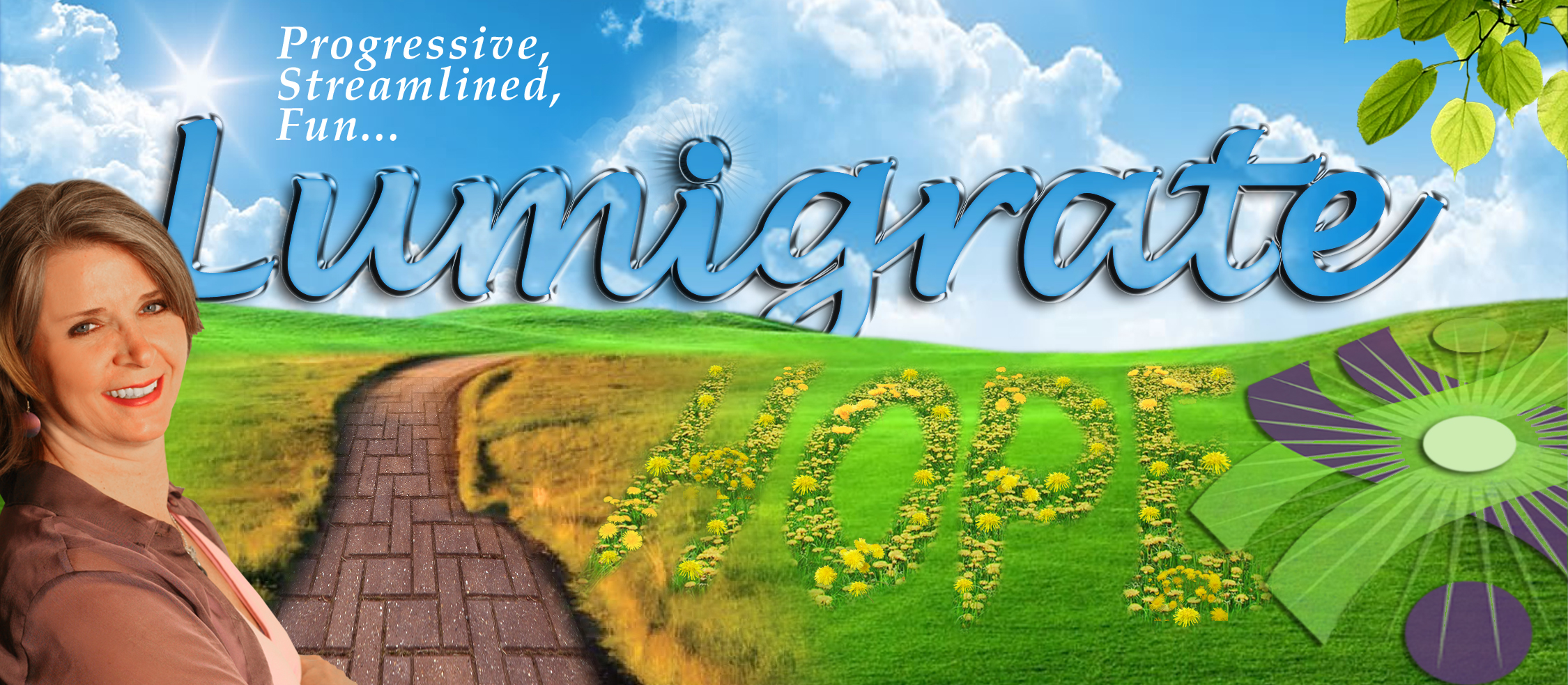 "Contact Us" comes to me, so please do if you have any questions, comments, requests. Please see my biography/vitae in Forum, the forum is near the top and is titled 'About Lumigrate's Forum Writers'. For your ease, mine is at this link: www.lumigrate.com/forum/mardy-ross-otr-and-founding-executive-director-lumigrate