Hypothyroidism: Misunderstood, Misdiagnosed, Missed! by Dr. Scott Rollins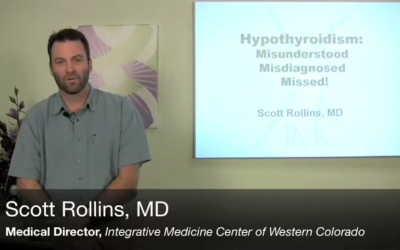 $0.00
Mardy's Thoughts: Hypothyroidism has recently become a very popular topic. Oprah Winfrey discussed the frustrations of her diagnosis on her first show of 2009. By doing so, she brought attention to this under-diagnosed chronic health condition, and the difficulties she experienced when several physicians were unable to identify the issue.
"We need to take responsibility" became her mantra in several shows about hormones in January 2009, which also has been the underlying premise of Lumigrate and the providers whose seminars are carried by our site.
Symptoms such as weight gain, fatigue, low energy, hair loss, dry skin, and heart arrhythmia can be indicative of hypothyroidism. Thyroid disorder can lead to metabolic syndrome and other health conditions, so it is very important to diagnose and treat.
Sample Video
This seminar provides a thorough education about the signs and symptoms of hypothyroidism, and the diagnostic tests which frequently performed in an ineffective manner. It provides a complete understanding of how the thyroid works and fails, including a fascinating review of hormones secreted by the pituitary gland, adrenals, and thyroid, and how they are guided by the hypothalamus within the brain.
Medications are discussed, as well as supplements of vitamins, minerals and herbs which are believed now to be helpful to supporting the thyroid for improved functioning. Hashimoto's disease, Graves' disease, and other hypothyroid conditions are included in this seminar.
Dr. Scott Rollins has been in high demand to perform this seminar at the Integrative Medicine Center of Western Colorado, where he serves as medical director. We hope you find it as beneficial as those who are fortunate enough to attend an in-person presentation in Grand Junction, Colorado.
Dr. Rollins has a great appreciation for on-going education for medical practitioners, and is excited about the opportunity to share this material with other physicians. We hope physicians will find the seminar useful, and consider directing their patients to the site to learn about this complex condition.
To read the biography of Dr. Scott Rollins, click here.
Price: $0.00
What do I get with my purchase?
Video Download
If you purchase a video download, you will receive a high-quality video of the seminar which can be played directly on your computer. The video is provided in three formats: MPEG-4 (.mp4 file), Apple QuickTime (.mov file), and Windows Media Player (.wmv file). If you do not have a program on your computer that automatically plays media files, you will need to download one of the following:
You will also receive as part of your download a PDF file of the presentation slides, and various supporting documents such as checklists, recommendations, and guides. The supporting documents are typically about 25 pages of additional content. To view these documents you must have Adobe Reader installed on your computer. If you do not have Adobe Reader, please download it by clicking here.
DVD
If you order a DVD, you will receive a packet including the DVD disc, presentation slides, and related documents. The entire content is three-hole punched so you can place it in a binder and start your collection! It is our goal to have DVDs to you very rapidly, but they are a special order item so timelines vary.
Want to read comments about this product, offer your own feedback, or discuss other collaborative care topics? Visit our Lumigrate Forums.
Products discussed in the Seminar