"Peace Fleece" in April for Fibromyalgia Awareness
Darden Smith played a lovely, FUN, thought-provoking concert in Grand Junction on Saturday, April 2, and since he'd been interviewed by Rock related to the podcast we were recording last fall when they were lining out his stopping here on his touring and given permission to use a song Rock had chosen related to the topic, I wanted to thank him personally. So I stopped by with the PeaceFleece. Yes, that's not something that happens everday and since Yenta had said 'Honey, I thought you could use it to raise awareness or money about fibromyalgia with it', I think it's now done that with one of the nicest men from Austin, Texas!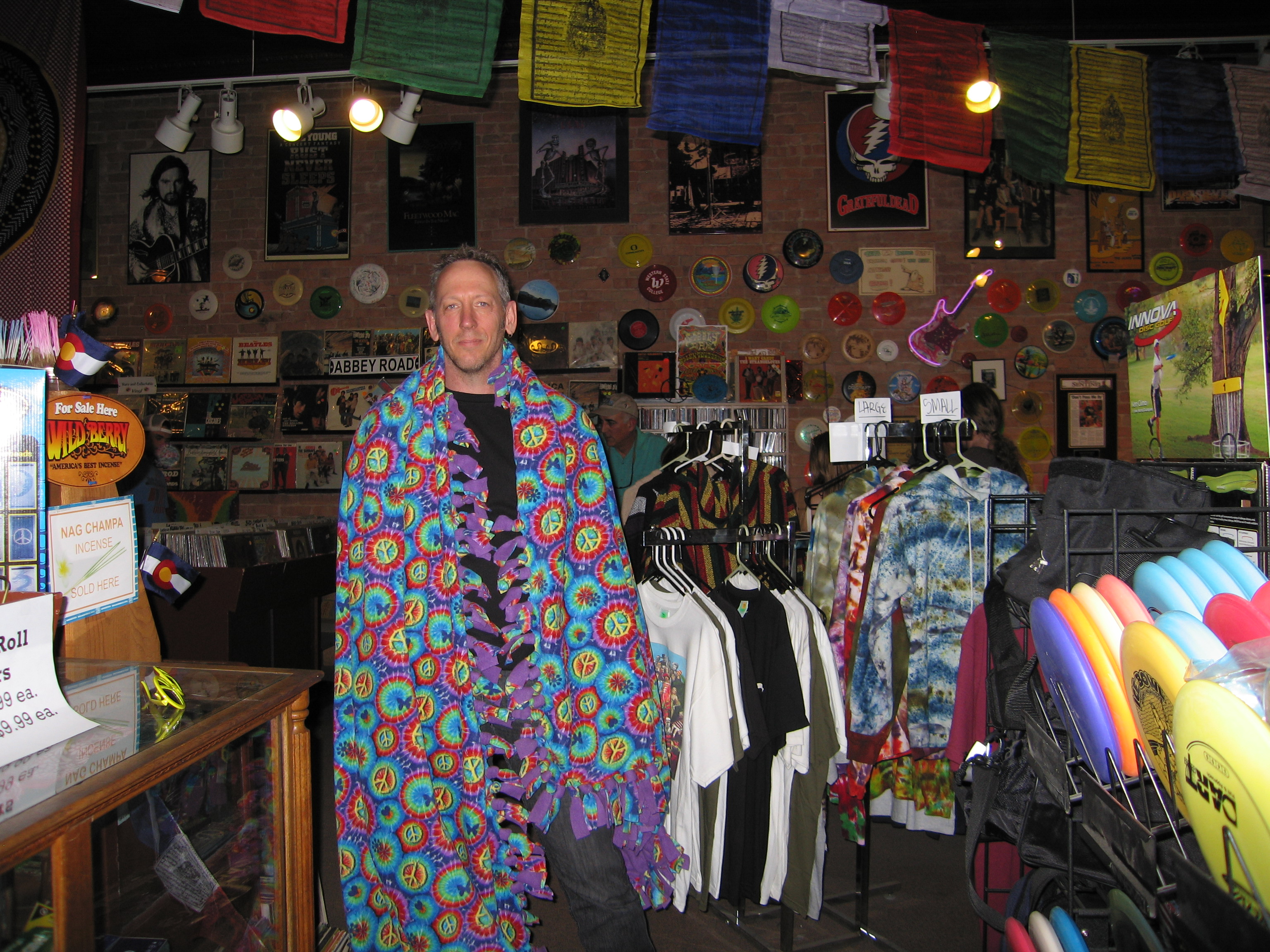 Darden Smith PeaceFleeced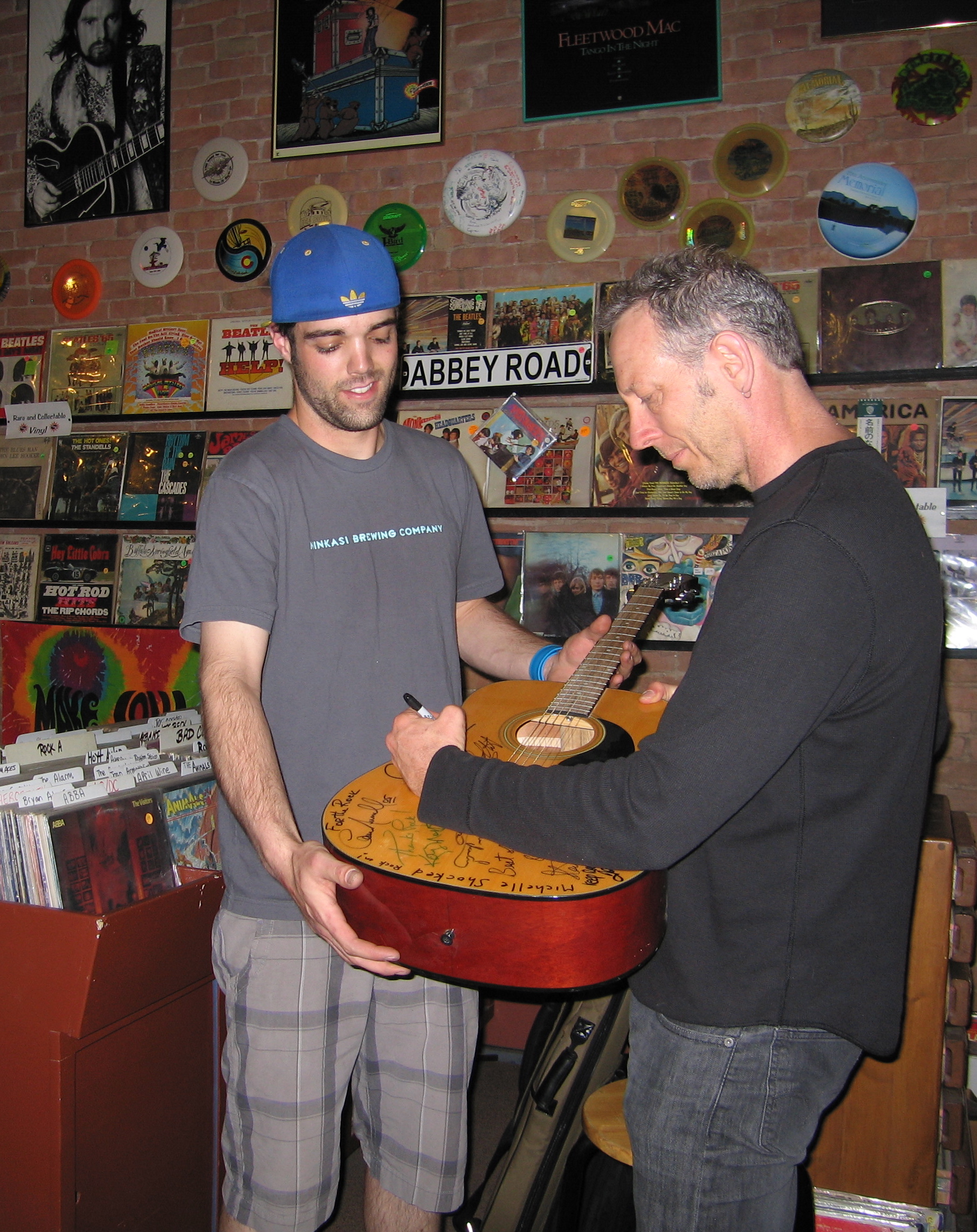 Signing Triple Play Records' guitar, held by Matt Cesario, whose 21st birthday was not long before my 51st, which was the day of the show!
It was just really neat to have so many people I know be out ON my birthday. Chris Young and his family and group were sitting right up front, as he's a guitarist and wanted to watch the fingers, I'm sure. To see people come in with the 'zone' or place they were in and then the magic of the music take it's effects was wonderful. However, I particularly enjoyed his 'tweener banter' when he was tuning. Darden strikes me as someone who has his head in the game, have overcome many things we all resonate with, and he writes about it in his music. He inspired ME because he doesn't leave his hotel room when he's on the road until he's written a song. That's basically my theory too, but I start working emails instead of using that time for writing of the 'important stuff'. So I'm going to use this spring season to get into some different work and life habits and hope to have people enjoying and benefitting from Lumigrate in the years ahead as he does in his concerts.
I asked him where he was going to be on May 12th, International FMS Awareness Day: "London". So perhaps he'll take some stories with him along the trail from here to there and do a little bit of awareness raising just by having HIS awareness Peacefully Fleeced while in Grand Junction, with Yenta's magical blanket.
I look forward to hearing his CD I purchased, so now I have TWO -- he's on iTunes somewhat AND he's naturally on iTunes in the free Lumigrate podcast about health and music, so I hope people then hop over from there and find his tunes and download away! Or purchase his CDs, including via Triple Play Records in Grand Junction which ships in the US and sometimes beyond. To find the podcast, click on the Forums tab at Lumigrate and the Podcast Forum is at the very top so it's EASY to find!
Thanks to all who contribute to bringing in a musician and putting on a performance -- there's much behind the scenes just like what all we do at Lumigrate to bring YOU what you see! I encourage a listen to the podcast with Darden and the song selected by Rock and all the discussion about music and healing we had that day. He has MANY more songs that I found equally insightful and motivating. Hope he's back again SOON! ~~ Mardy
__________________
Live and Learn. Learn and Live Better! is my motto. I'm Mardy Ross, and I founded Lumigrate in 2008 after a career as an occupational therapist with a background in health education and environmental research program administration. Today I function as the desk clerk for short questions people have, as well as 'concierge' services offered for those who want a thorough exploration of their health history and direction to resources likely to progress their health according to their goals. Contact Us comes to me, so please do if you have questions or comments. Lumigrate is "Lighting the Path to Health and Well-Being" for increasing numbers of people. Follow us on social networking sites such as: Twitter: http://twitter.com/lumigrate and Facebook. (There is my personal page and several Lumigrate pages. For those interested in "groovy" local education and networking for those uniquely talented LumiGRATE experts located in my own back yard, "LumiGRATE Groove of the Grand Valley" is a Facebook page to join. (Many who have joined are beyond our area but like to see the Groovy information! We not only have FUN, we are learning about other providers we can be referring patients to and 'wearing a groove' to each other's doors -- or websites/home offices!) By covering some of the things we do, including case examples, it reinforces the concepts at Lumigrate.com as well as making YOU feel that you're part of a community. Which you ARE at Lumigrate!