PeaceFleece's FIRST Summer, 2011
Thu, 06/30/2011 - 12:41pm
I hope by the end of summer there will be a wonderful tale of adventures with The PeaceFleece! I remember the school days when we'd start off standing up in class and saying what we did for summer vacation. I hope there are at least a few special occasions and many special people who get to spend a little time helping us raise awareness about fibromyalgia by posing with the Peace Fleece!
One happened when Beth Patterson was in town visiting her many friends, as she used to live around here and was an administrator for our beloved Hospice of Western Colorado, before moving to the Pacific Northwest, where she is operations manager for a company related to elders and caring for them as well as a practicing spirituality coach. (She's a regular contributor in Lumigrate's Spirituality Forum, so please look for her there OR Search on her name at the Search bar in Lumigrate, and her signature information links you to follow her website/blog and work with spirituality and personal growth.)
I'm so glad she took the time to meet in person, and I learned a valuable lesson about people who are adept with computers and posting on Lumigrate: It's STILL imperative to talk as close to 'in person' as possible. People are people and we get SO MUCH from being in person.
Judi Larson had wanted to meet Beth, as Beth's spirituality coaching/blog is well established and Judi is just launching hers. You can also find Judi on Lumigrate -- her works 'resonate' and have been equally as impactful as Beths, and helpful to me as behind the scenes I will approach particular providers when particular needs are on the table at Lumigrate. However, Beth's only time to meet me was on a day that was not Judi's day off from her 'day job' of being a certified addictions counselor. Despite Beth's suggesting we meet for 'coffee', I suggested a nice Italian restaurant's patio as they have coffee and lots of other things and most of all a nice patio and wonderful servers and owners who Lumigrate providers all really like to support. And wine if someone wanted that, as we were meeting in the afternoon on a Friday.
So on this beautiful summer day, I had just met Beth and exchanged a hug and a laugh that she'd gotten locked in the women's room and crawled under, which was possible because she is so petite, I'd chosen a table along the patio's fence with the sidewalk, and I sat facing the west (as sun doesn't bother my eyes like it does others), and I see none other than Judi Larson walking down the sidewalk towards us! So she and Beth got to meet! "Coincidences" like that are just so cool!
And after a really wonderful meeting and iced tea or Arnold Palmers on the patio on such a beautiful early summertime day, Beth's creativity showed when I told her people are making how they pose with the PeaceFleece their own creative "thing" to represent themselves a bit. She looked around and saw the statue across the street and, much like a free-hearted soul that we'd maybe say shows 'childlike exuberance', said 'let's go!'. So here we go! And here she is! Another GRATE PeaceFleece pic! THANK YOU BETH, JUDI and ALL!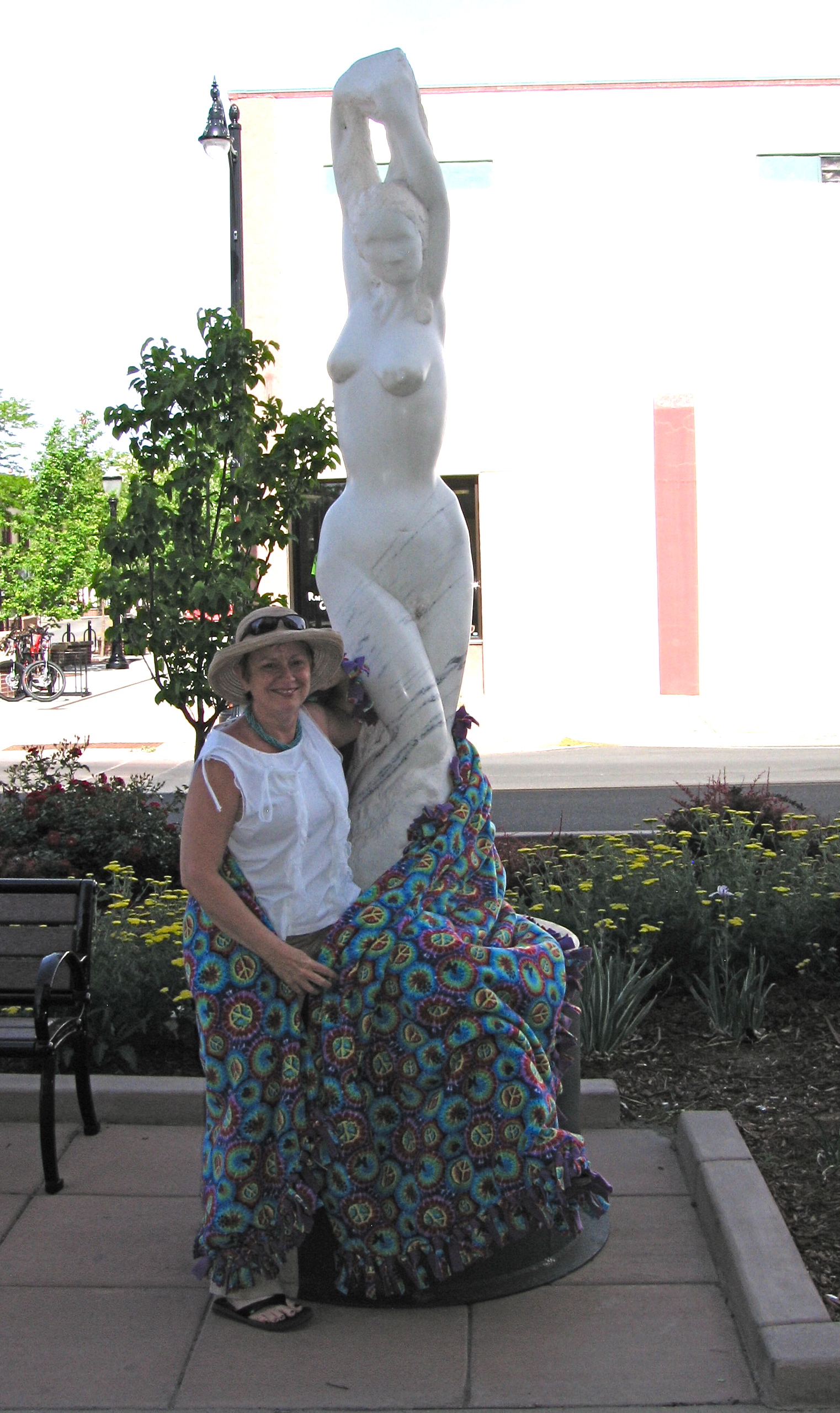 Beth Patterson with Art on the Corner, Downtown Grand Junction, Colorado, USA.
__________________
Live and Learn. Learn and Live Better! is my motto. I'm Mardy Ross, and I founded Lumigrate in 2008 after a career as an occupational therapist with a background in health education and environmental research program administration. Today I function as the desk clerk for short questions people have, as well as 'concierge' services offered for those who want a thorough exploration of their health history and direction to resources likely to progress their health according to their goals. Contact Us comes to me, so please do if you have questions or comments. Lumigrate is "Lighting the Path to Health and Well-Being" for increasing numbers of people. Follow us on social networking sites such as: Twitter: http://twitter.com/lumigrate and Facebook. (There is my personal page and several Lumigrate pages. For those interested in "groovy" local education and networking for those uniquely talented LumiGRATE experts located in my own back yard, "LumiGRATE Groove of the Grand Valley" is a Facebook page to join. (Many who have joined are beyond our area but like to see the Groovy information! We not only have FUN, we are learning about other providers we can be referring patients to and 'wearing a groove' to each other's doors -- or websites/home offices!) By covering some of the things we do, including case examples, it reinforces the concepts at Lumigrate.com as well as making YOU feel that you're part of a community. Which you ARE at Lumigrate!