Of Cats and Dogs and Hikes on My First Father(less) Day -
Sunday, June 19, 2011, 6:19 am, by Mardy Ross
Father's Day is today, the first one since my father passed nine and a half months ago. He died on Labor Day, the ultimate irony since he was the hardest worker. He worked at everything, even at having fun. Hikes or walks on the flatlands were monitored for how many miles per hour, ski runs were evaluated on the way back up on the lift, people were evaluated after parting from spending time together. I developed chronic fatigue and fibromyalgia in my 20s and 30s, but in the last year I've learned more about it overall and about my case in particular and now see the threads of symptoms going back to birth and infancy; if you factor in the genetic component with fibromyalgia, it truly tracks back to conception.
I believe Dad had fibromyalgia as well, as did one of his health care teammates in the many months of "mangling medicine" that transpired between the day he 'fell apart' and last Father's Day, when hospice thankfully finally got involved. I say 'finally' because of the 'mangling medicine' camp which was unwisely discouraging it despite my having been educated and vocal in my requests for eighteen months. Once it got past six months it was even pointed out that I must have been wrong in the first place since he was still alive; however, once he had a hospice team it was only two months before he asked to be euthanized, which of course is not within their legal reach yet, but they did tell him how you'll die without liquids so if he wanted to stop eating and most importantly drinking, he'd have his way out of this world on his own terms. And since he was a hard worker, he worked hard and persisted at that despite it being uncomfortable to be thirsty. He wasn't a fan of taking medication but when he realized pain and anxiety medications make you sleepy he then wanted them.
He essentially was in some sort of pain for the better part of 90 years and my first feeling and thought when he died was that he was out of pain finally. I'm always fascinated to study families where I know the parents and kids, because they're typically such an obvious amalgam of both parents and my family is no exception; I inherited and/or learned a lot from him, including the ability to get through unpleasant things. For that I am eternally grateful, and spiritually I believe I chose him as a father and teacher on this Earth this time around for that and many other reasons. I would not be doing what I am doing right now, writing on Lumigrate which is being followed by an increasing number of people if it weren't for him and my mother and the 'whole families' that come with a union.
He married a woman who could not have been more different than he, who I also recognize as passing on a lot to me. A fairly radical guy for the times, he shifted politically to the right enough to become a Democrat for the last stretch of his life. He was as left brained as left brained gets and on the autism spectrum; he actually was aware of that and had considered not marrying and having children. But one day he walked into a bookstore near the University of New Mexico and saw at attractive woman on the ladder shelving books and asked her out; they were both from Chicago, though very different parts of the city. He'd been in a neighborhood which had a lot of Jewish people, and I'm fairly confident he would have enjoyed reading Yenta. Last year I had the pleasure to visit for a few weeks and had with me printouts of the major parts of Lumigrate to show to someone I was going to meet with and I showed them to him and he wanted to keep them in the worst way! Naturally I let him have them and he shuffled off to his room and stuck them away in his dresser as though they were as precious as money or gold. That gives me great pride today and will everyday that I remember it.
At the parties my mother was quite the dancer and talker -- apparently I come by those traits honestly -- and he was content to operate the record player. He loved music, she couldn't have cared less aside from loving to DANCE. At his funeral, which my brother-in-law and sister, talented musicians who orchestrated a moving and fun ceremony which was more like a school music program than a funeral we were told, included the song I used to dance in my crib to when he played it on the piano. Oddly enough, I have memories going back to being in my crib, but I was crying and wanting to be let out of the prison that it was and was ticked off the adults weren't giving in and were laughing instead. As I write this, I realize I have recently laughed at my cat in her cage or on her leash, as she is the feline version of me in many ways -- definitely an independent soul who wants to explore freedom.
At that time, my mother was an artist who graduated in art education, and his grandfather had been one of the great Norwegian-American artists of the time, a complex character and most famous person in our family, who essentially drank his commissions away at the bar. Recently a friend and new contributor on Lumigrate, Lani Wallace, was at my house and wanted to see a photo of my mother as she was preparing to write about face reading, and I realized I don't have many photos of my mom. Most are at family gatherings or my wedding where she had a drink in one hand and a cigarette in the other -- still the party girl! She was never the 'life of the party' but she was the glue of the party and our family, the catalyst that poured her gregarious laughter and banter into the conversation and kept things going. I've always had friends that were like that and I take a little more after my dad and am more comfortable in the background.
It was 1950 when they met, I believe, and they went on hikes but she was being a good sport and wasn't truly an avid hiker, so later that dropped away. So when he had kids, he often turned to us to accompany him hiking or in my case for tennis. We learned to ski as a family in the 1960s after my mother went back college to get certified to teach general elementary education, and they had enough money for some recreation. It had been a rough go for them for the decade surrounding when I was born. Again, she was an extremely good sport to try, as she had difficult feet to get comfortable in boots and finally she gave up and stayed home while the three of us went.
Once I stayed home for some reason and a terrible snowstorm came in, and only then did I realize what a worrier she was -- she stood looking out the window, chewing her lower lip and smoking more than usual, until they arrived home safely. Interestingly, she went back to acting like it had been business as usual for her around the kitchen, which meant smoking and playing solitaire and gradually fiddling over time in the kitchen to make dinner be on the table sometime much later in the evening. Dad maybe had a couple of sips or a drink on New Years. He was an early riser, she a night owl; I wasn't inclined to sleep well (a harbinger or symptom of things to come as I was in adrenal fatigue and didn't know it), so I'd stay up watching late night TV with her, breathing in more smoke second hand then be awakened at dawn sometimes with a knock on my door and request to go hike or play tennis or ski. If I said I wanted to sleep the response was 'you have plenty of time to sleep after you're dead'. Essentially I was in a bar-less prison of beautiful property where I did not have free will any more than when I was in a crib wanting to get out.
They had a few interesting things in common, though. For starters, they were honest and hard working professionals who believed in and lived by example what I call today the 'universal truths'. Since we didn't go to church or study religion of any kind, I wasn't 'talked to' about morals and ethics, it just 'was'. They both were only children with cousins of the opposite sex who were also only children and lived next door or very closeby growing up, so they were like brother/sister effectively. In the depression, my mothers family all moved into the physician father's home as his patients couldn't afford to pay him, and other rooms were rented out with my grandmother being the maid, essentially.
My parents also had dogs in common. My dad truly loved dogs passionately, and in the last years when he couldn't care for himself let alone a dog during the weeks while he lived alone with set up meals, he said "I think I could look at pictures of dogs all day long." It was one of the only things that really made him smile and feel joy consistently; he was lucky to have a special dog as a boy. I get my entrepreneurial bent from my mother, who had seen the business opportunity when they were stationed in England, to bring a few golden retrievers back to breed and show. They humans came back to the States in 1955 on a troop ship and the dogs came on the a luxury liner, the Queen Mary or Elizabeth, I can never remember which.
The problem was, they settled in Colorado and in 1955, believe it or not, there weren't any other of that breed in the whole state! They had to venture to South Dakota to get into a different gene pool. What is now the common form of golden retriever, the light colored, flat coated ones, were rare and the ones you don't see much anymore which are dark (as they had bloodhound bred into them to increase their ability for tracking) were the norm! I like to think of it as a hopeful analogy for the future where what we now call 'alternative medicine' is the 'conventional medicine'.
It was one thing after another with the litters of puppies and after many years of not giving up, my dad returned from the veterinarian's office after having to euthanize too many puppies for his sweet heart and did the most difficult thing for him in the whole world, which was to put his foot down and do something that would cause potential conflict. This left me with the best playmates in the world, the dogs that they no longer bred! I pulled myself up to learn to walk on those lovely dogs, one of which was to become a Grand Champion not too long afterward. In junior high and high school had my dog, who was an 'accident' and was half collie, hitching a ride on the back of my snowshoes in the winter -- they were the old fashioned kind with the rawhide and long wooden tails that dragged behind, making a perfect platform to catch a ride for my canine companion! The intelligence boost that came from the collie made her be the favorite of uncountable dogs that lived and died in their lifetime to be buried on their property.
I don't think my mother actually loved dogs, she liked the challenge they presented as an entrepreneur, just as later she became consumed with being the best teacher of troubled students she could be, or an organic gardener. My mother was always passionately into something and then that was all she was into, and I tend to be a bit that way. She was a reader and would read a book from cover to cover, she never picked up a book and didn't finish it. She was a minimalist -- she didn't have something unless it was absolutely necessary. She also was frugal and downright ungenerous. My dad was practical and lived by equations but he enjoyed a good bargain, having stuff, and that was a bad combination as he had a bunch of junk that didn't work right or was of low quality. I like to think I've found a good balance -- I typically buy things on sale but I buy quality things and look for good value, not 'bargains'.
About the time I got married when I was 21, she adopted two kittens from one of her friends, both of which outlived her leaving dad, a man who didn't particularly like cats and was allergic to them, with them as his only companions Monday through Friday. The long haired black one lived to be almost 20, and somewhere in there my dad changed and grew to be quite fond of cats. His last two nights of his life last year, he had my cat, who had impressed me with her intelligence by then by being a Yenta fan, keeping 'watch' outside his door and lying where she could see my door too. The next night when he was no longer fussing and being uncomfortable and sitting up on the edge of the bed (in which case we needed to wake up and get up and go assist), she slept on the foot of my bed as it was near where I'd put the baby monitor so it didn't keep me awake all night. I truly believe she figured if she heard something I didn't she could awaken me.
My dog had, 38 years before on the return from one of two ill-fated trips camping with a trailer he bought hoping Mom would get out there and 'do something' with us, traded off with me in the back seat keeping an eye on him to be sure he wasn't going to fall asleep. At that time I was 12 so he was 51, my age now, likely fully in the throes of fibromyalgia which was causing the ill-fatedness of the trips -- the fumes outgassing in the newly purchased trailer made him ill the first year, the second year was a toothache. On that trip we'd tried to find a camping spot and got down a road that dead ended and he couldn't back the trailer well so he showed me how to pace off the turn around area and do the mathematics to determine if we'd jackknife turning around or be successful. We had to back it out a long distance and it just was a very long day, but I certainly appreciate what he was trying to do for us, particularly being able to 'commiserate' and not just sympathize with how tired and in pain he was.
So growing up, one of the best days of the year was Father's Day because it was the one time my mother would come on a day trip and go hike with us and the dogs. We lived where one could hike every day right out our door. I'd take the dogs after school and then feed them, then he'd come home and if he was lucky there wouldn't be anything needing fixing or muscles or brains beyond what we could do to alleviate his list of chores. I high school I only once participated in anything extracurricular, which was the school musical -- I had a particularly good voice and enjoyed singing but it proved too taxing and difficult to maintain my home work and required a second round drip of 25 miles. My mother's priority, sadly, was to socialize over coffee and cigarettes in the teachers lounge with her cronies, and was not one to give of herself even when it was for her own children's benefit. But on Father's Day, we'd pack a lunch and just spend the day together driving further into the mountains, usually one of a handfull of places my dad would go on is own typically, eating the lunch just sitting on rocks on the trail, and coming back home. But it was special and provided fond memories and subtle lessons for me, I believe.
I hope that today people acknowledge their fathers and father-like figures in their lives in truly meaningful ways without making it a materialistic 'thing'. Stuff is just stuff, time and experiences are the real deal, especially when you spend your resources of time, energy (and money) on something that the other person likes to do which is not really your 'cup of tea' (pun intended since my dad was a tea person, but herbal, not caffeinated).
Because of the benefits of having my dad's life end with a progressive neurological disease which afforded us years and decades to be prepared, with only the last two Father's Days being extremely different and modified because of his condition escalating to affect his eating and the 'mangling medicine team' not having been receptive initially to my suggestion there was a movement disorder at play, they'd opted to stick in a feeding tube without a neurological consult even happening, and a 'dimentia' diagnosis because the brain scan showed brain shrinkage. Ironically, his height had shrunk from 5'11" to 5'4" when he was admitted to the hospital, but they didn't stop to think that might be something to analyze and diagnose what the cause was. The physician he'd seen every year for the years he lost a total of seven inches of height and 50 pounds didn't do more than hand the requested prescription for thyroid supplementation yearly, address a skin cancer repetitively, treat inflammation in his hands with antibiotics and not look at the underlying cause of the inflammation, which was a severe wheat allergy. Unbelievably, and unacceptably, the doctor's office was not concerned when he drove himself to the office when he thought he was having a cardiac event about a year after I called for the first time and made an appointment to take him and find out what was going on; I called back and told them he politely refused to have me do that for/with him and cancelled the appointment. It turned out it was gastric pain and they handed him a prescription and at a dose that for his age was documented as being too much.
And so for Father's Day today in honor of my dad, like every day I will work hard and keep whittling away at what I call 'health care reform via Lumigrate'. This "first fatherless Father's Day" isn't a sad occasion. I'll do something to honor him or remind me of him -- the other day I donated a little money to a waitress who is taking care of a cat until she can find a home for it and shared a little bit with her about his history at the end of his life rescuing a cat with my sister's help on his property who amazingly outlived him. My days have been filled with work lately which is a good thing, but fortunately I'm as interested in the topics on Lumigrate and what we're doing with it to help people as he was crunching statistics and forecasting sales. He'd approve if I just worked in his honor today, or if I rested -- in his old age he became wiser and more rounded and balanced in many ways.
The blessing in disguise which we shared also has to do with medical issues changing you to be different people and experience different things -- to make you grow as a human being as your life shrinks outwardly. Fortunately, for Fathers Day last year, Hospice got involved with his care and allowed him to once again get back in control of how the end of his life was to be.
If you're lucky, you come full circle in life -- he did, and I hope I will too. It's so much more diverse and a bigger adventure for learning than being the same all the time!
Enjoy your day and the people and things in your life that are blessings and mostly, let them know you do.
Below, Amber, Yenta's #1 feline fan. Her favorite Yenta piece was the one about the airport security-sniffing dogs finding narcotics on Yenta. Amber loves to travel but prefers to go by automobile and hopes to travel someday to meet Yenta in person -- it couldn't hurt! ~~ Mardy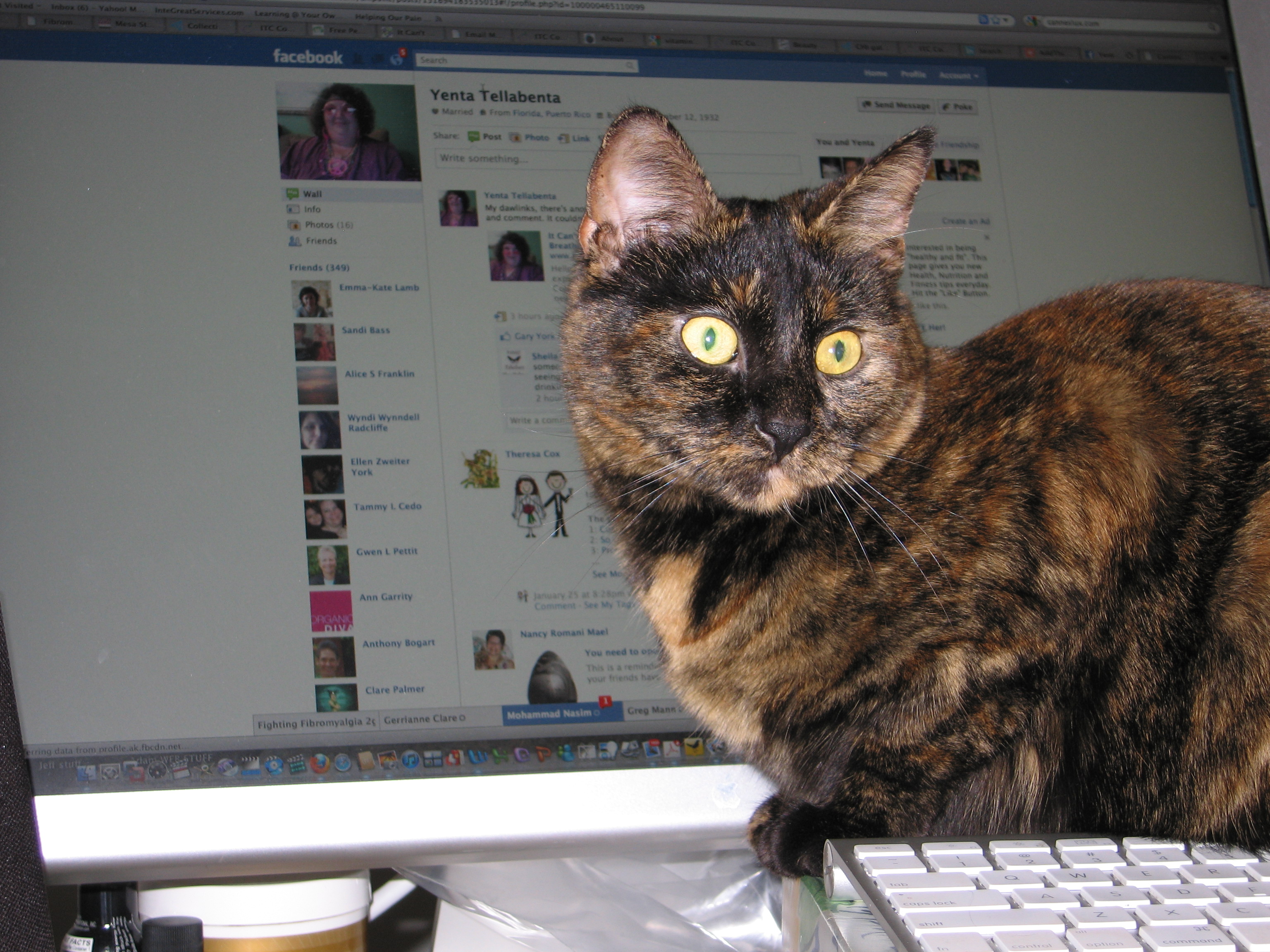 To read Lani Wallace's piece in the aesthetics forum on Lumigrate.com about face reading, the link is www.lumigrate.com/forum/face-reading-beauty-us-all
To read Yenta's latest piece about having a good cry with contribution as followup from Judi Larson, Certified Addictions Counselor/3 and spirituality coach which might shed some light on how a person can get out of the cycle of addiction to alcohol, the link is www.lumigrate.com/forum/lessons-history-include-crying
__________________
Live and Learn. Learn and Live Better! is my motto. I'm Mardy Ross, and I founded Lumigrate in 2008 after a career as an occupational therapist with a background in health education and environmental research program administration. Today I function as the desk clerk for short questions people have, as well as 'concierge' services offered for those who want a thorough exploration of their health history and direction to resources likely to progress their health according to their goals. Contact Us comes to me, so please do if you have questions or comments. Lumigrate is "Lighting the Path to Health and Well-Being" for increasing numbers of people. Follow us on social networking sites such as: Twitter: http://twitter.com/lumigrate and Facebook. (There is my personal page and several Lumigrate pages. For those interested in "groovy" local education and networking for those uniquely talented LumiGRATE experts located in my own back yard, "LumiGRATE Groove of the Grand Valley" is a Facebook page to join. (Many who have joined are beyond our area but like to see the Groovy information! We not only have FUN, we are learning about other providers we can be referring patients to and 'wearing a groove' to each other's doors -- or websites/home offices!) By covering some of the things we do, including case examples, it reinforces the concepts at Lumigrate.com as well as making YOU feel that you're part of a community. Which you ARE at Lumigrate!