Robin Goffe of Utah - "Known Truther" and Medical Historian Exposing the "Known Liars"
Meet Robin Goffe, if you have not already.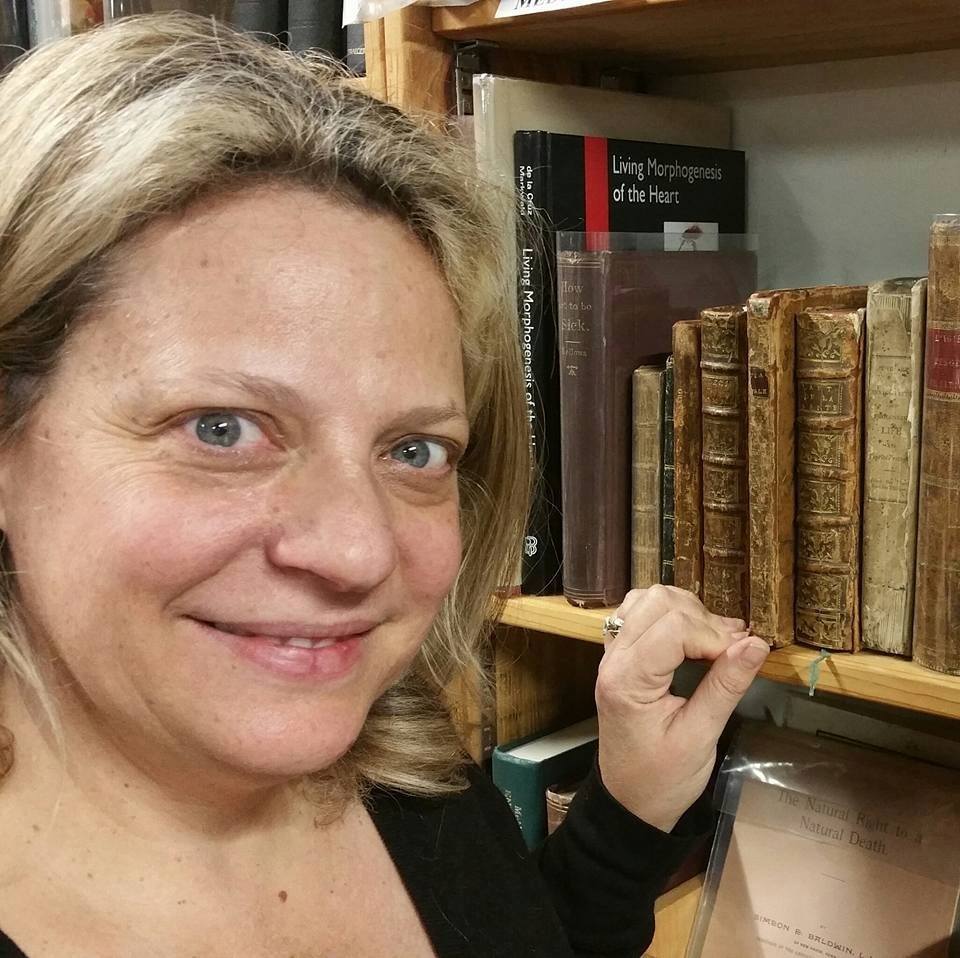 Imagine what those books have in them! You'll not have to imagine, however, you'll be able to get a taste of what is brought from them by Robin Goffe, via her generously agreeing to collaborate on providing a topic at Lumigrate. Meet Robin's Collection as she presents it showing years of publication: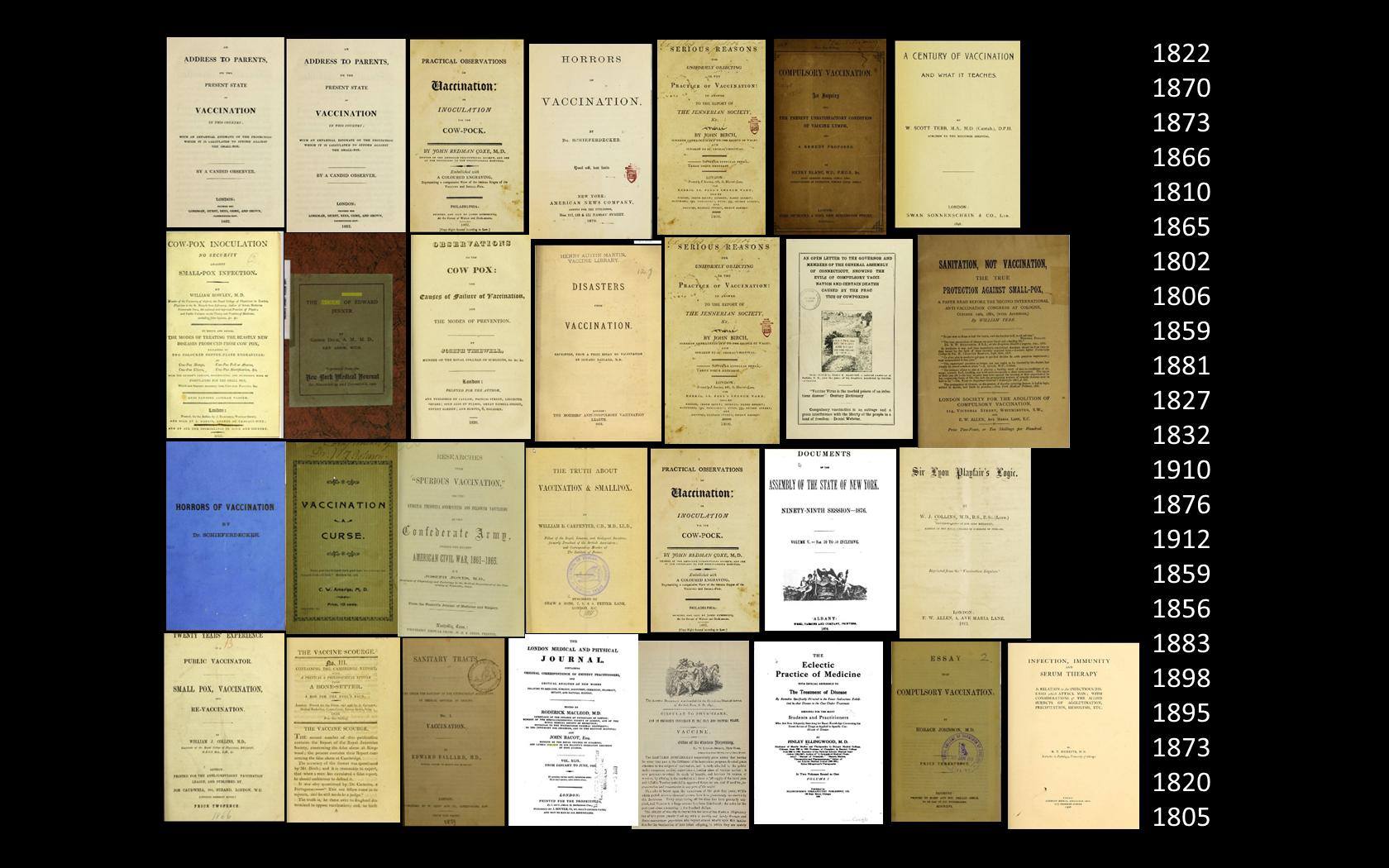 I'd been watching Robin Goff's Facebook page and presence since becoming acquainted with her name via Facebook shares of her presentation at an Autism One conference. I remember where I was at the time, it was spring of 2015. This presentation had just occurred and was making the rounds on Facebook in my newfound 'autism mom' community of Facebook friends.
www.youtube.com/watch "Autism with aggression, violence, self-injurious behavior" by Robin Goffe.

Where you'll see Robin Goffe commenting "Please go to ~Trailblazers Waiting room ~on Facebook to be with others using this herbal technique

The presentation is introduced by Kent Heckenlively. He uses the example of Ben Franklin, who would go around to many places of worship and make a donation. When people are generating new ideas, they generate controversy, and this is how he connected to Robin Goffe. He deeply respects original thinkers, those who have courage, and he says how he can't think of anyone else who is more a courage and original thinker than Robin Goffe. Her son was 20 when she made this 2015 presentation focusing on the second regression which occurred in her son and how she has helped through her group The Trailblazers, similarly with others. Viewer discretion is advised, she warns, of her presentation as it is very personal, private and she suggests people who are sensitive move to the back of the room in case they need to leave.

You then hear what is being shown and heard to those in the room while the camera stays on Robin. Rhythmic drum beating throughout with sounds that I presumed when watching were her son.

Her son, Ty, is his second child. She reports on how he was well the day of his birth and the second day he was ill and was in intensive care. After two years she was reviewing her bills and found that he had been given a trial vaccine. She got the lot number of his vaccine. She learned there were over 508 adverse events and 70 deaths near the time of the presentation, but most concerningly the vaccine was given to many other children, and injured and killed other children, after the system knew of the injuries, including Ty's.

She initiated a vaccine advocacy group in Utah, and initiated a lawsuit which you can find online.

Ty started becoming violence towards himself and objects in the environment. His behavior became erratic. If the behavior becomes public the police can become involved. When the child turns into a dangerous being, the parent begins to change how they feel about their child and about institutionalization.

She talks about her qualifications and what she states she is not. She passionately and tearfully talks about her involvement in a book about healing the symptoms known as autism and the numbers of children and families she has been helping. And how many of the children did not have violence before adolescence.

She refers to her background as a geneologist and how 'cutting teeth' on old documents had given her appreciation for the important information in old documents. 1869 Lancet article is cited, to do with over exposure to viruses (such as vaccines), which affects the mucous in the child's digestive system, and how it becomes a perfect location for parasites as a result. The author went on to write a book published in 1885. Worm infestation symptoms in children from the book is given -- including dilated pupils -- were read.

Despite this historic information, 100 years after this information was published, these children were given tests and in the end they only tested for two, and negative results which initially dissuading.

400 feet of parasites were taken from the son within six months after beginning treatment after the negative results of laboratory testing.


Parasites = autism, she simply states, with applause.

Then she goes into detail which I'll leave for YOUsers to pick up and watch from here.
She had been 'at it' a while, by then. I believe it was a 2013 interview on One Radio Network I recently listened to when doing my homework to contribute about 'rope worm', at someone's request due to what I'd photographed coming from O'Rio Grande, the now 12-1/2 year old dog I've been rehabilitating since he was 10-1/4.
I wondered "how did I not know of her before now?", when I watched the video in 2015, and realized that ultimately the "autism moms" who were proactively using the Internet, including Facebook, to connect with solutions for helping their children heal from that which ultimately contributes to autism had found their way to information I'd been seeking and not finding because I wasn't a mom to an autistic child.
I had been, I realized after the euthanisia, a 'mom' to an autistic cat, and that is what had gotten me heart broken in 2013 about not finding a solution beyond humanely ending her young life in order to put her out of her mental misery, and keep me safe from the attacking episodes. I want to specifically say the episodes were not 'behavior', they were insanity that clearly coincided with a seizure-like episode. I'd known from the minute I encounted the 5 month old kitten, needing rehoming and crossing my path through the strangest of stories yet in my life of 'finding our next teacher in life", that this was not a mere cat in my life needing a home temporarily. Similarly to when I first saw O'Rio Grande in 2015.
I'd learn from a thread somewhere on Facebook elsewhere, in 2015 prior to encountering O'Rio and still learning about reversing autism and the parasite aspect, in a different circle than Robin's circle of influence, of an autism mom's observation of her kiddo's symptoms which sounded so similar to SpoildeyCat's -- pupil dilation when a 'fit' would start. Which had improved with the treatment that was being focused upon in one group on Facebook. (Which I covered extensively in 2015 at Lumigrate, in the same forum as this topic.)
Pupil dilation was THE hallmark symptom, I was told, of the many symptoms or observations I'd made of SpoildeyCat which I provided to the holistic, homeopathic veterinarian in April 2013. She had seen cases of 'whatever it was' in her long career, and knew of no solutions, knew not what the cause was, but that they were dangerous cats and as such had to be euthanized. I was prepared for that to be the case.
I'd 'tune in' to my 'guidance system' after that and 'get' that I was to be looking professionally in my work at things that cause brain injury more. And not the kind I already was versed in through my years as an occupational therapist -- traumatic brain injury / concussion for instance.
I realized because of my position as the human on Earth responsible for protecting and doing right for this 'teacher-cat', that I had become somewhat immune to the harm done to people by the shadowy system that eventually became increasingly apparent to me in recent years. I've made peace with my life-long health issues that affected my body, mind, and spirit and challenged me to reform and reverse as much as I have to date.
Realizing they were harming 'the innocents' enraged me in a subtle yet profound way. I can only imagine if I had given birth to or adopted a baby and been along for the ride not stopping things that were harming it, I'd later come to learn. It's not as though I had not thought of that before, but I'd remembered the feeling of having this baby kitty that was still developing and the impacts would be large with what I could do via the best food possible, play therapy which she clearly needed for sensory processing issues. I could be wise about medical treatments such as vaccine (though that had already been done by the others prior and in a mainstream way, not the way a holistic veterinarian would do vaccination).
2012 was a turning point for me as I created the Safe Water is Great initiative on Lumigrate which was beginning with fluoride being added to municipal water supplies as a focus. I went in thinking it was oversight and bad habits by The System to continue something so obviously harmful by today's standards and information available, and emerged having provided the information on Lumigrate seeing what Robin is dubbing "known liars".
2013 was a continuation of that, where I fully went 'down the rabbit hole' as it is referred to in the truth movement. I would turn 53 in that rabbit hole, having my version of a midlife crisis. NOT what I thought I'd be doing for the anticipated transition in life. I'd envisioned trading in my practical vehicle for something more 'fun', or a vacation, since I'd not really taken one since I was in occupational therapy school in my mid 30s (which was the mid 90s).
What I got in return for doing my time in the rabbit hole, and working as I did to continue the ball forward with Lumigrate's content providion and NOT go back and work for The System (and the known liars involved) was essentially a "reward" in it connected me into "autism moms" on Facebook, such as Robin Goffe. Others were moms but it wasn't "autism" their child had so much, but other overlapping symptoms. Or dads. Or others related somehow to this massively important issue.
I approached Robin in the summer of 2017, and got the nod to present her information she's pulling together on her Facebook page so that it can catch the people on the Internet seeing that which she is blowing everyone's minds with from the following she has on Facebook. Her son is a young adult and dramatically improved from significant autism symptoms, and he is continuing to improve.
She, a long-time flight attendant who clearly loves her work, and her science-teacher husband, put their poker chips down for what they wanted in retirement and are rehabilitating an old farm that reminds me so very much of the area and property I was raised on in the mountains outside Denver -- they're in the hills outside Salt Lake or therabouts.
Robin Goffe had gained the title "The Worm Whisperer" and greatly helped people learn about the parasites within the people with complex, chronic conditions. Something I've termed "The Interlopers" and "The Intestinal Interlopers" to help shift the perception of what is all involved. I think the worm title will be replaced, ultimately, with a new unofficial title having to do with overall medical historian and activist. Maybe "Known Medical Truther". I guess we'll wait and see!
And just as it became fall by the calendar AND the temperatures outside in western Colorado, where I reside not all that far from Robin Goffe, working as O'Rio Grande looks on and barks in frustration at time when I'm glued too long to the work station providing this type of content on Lumigrate, she posted the greatest starting point for me to get to creating this thread at Lumigrate.
This is what was posted on her Facebook on 25September2017 (bolding added by me, and paragraph breaks and small edits for the YOUsers of Lumigrate's ease of taking this in visually beyond what Robin could do within the Facebook website's features:
Have you ever known a liar? It is more than disappointing when you realize that you were lied to. Just as there is a vocabulary against us, we are called "conspiracy theorists", anti- (insert any word here, -vaccine, -science). But now we will also use their techniques and use words as weapons. How about "KNOWN LIARS"? The known liars have lied for centuries. The truth is printed out, but the known liars repeat the same lies over and over.

So we shall repeat as well, we shall repeat the truths. Here is a book, written 132 years ago, pointing out that death from disease was rising HIGHER after vaccination. Even pointing out that 26,000 MORE children died than needed to, and that vaccination actually contributes to the death in children when they have maladies.

An infant who had bronchitis would die FROM bronchitis and vaccination, they would die from whooping cough AND vaccination. Children who got disease without vaccination, had a much better chance of survival.


"A country can not be systematically diseased (vaccinated) without exciting and aggravating other maladies , and thereby enlarging the harvest of death."
~"The Story of the Great Delusion" Copyright 1885
Other resources shared by her Facebook friends included this link:
www.organiclifestylemagazine.com/vaccines-retroviruses-dna-and-the-discovery-that-destroyed-judy-mikovits-career
and
"Many vaccines are cultured on parasites, some even using tumors! The manufacturing process contains additional contaminants and ingredients that do not have to be listed in the final product! So keep in mind, there's even more filth than what's already officially admitted in the list of ingredients."
To which Robin Goffe replied: "It feels as if we are being mocked by them at this point. It is like they are saying ":HA! Look at the filth we inject into you in the name of health and the schools and health departments all follow and make this mandatory. ""
and another Facebook friend summarized their sentiments: "I must say Robin Goffe, your never ending pursuit of TRUTH regarding the history of vaccines/vaccination ALWAYS leaves me amazed and SO very GRATEFUL! I'm sharing this too! THANK YOU MY DEAR!
__________________
Live and Learn. Learn and Live Better! is my motto. I'm Mardy Ross, and I founded Lumigrate in 2008 after a career as an occupational therapist with a background in health education and environmental research program administration. Today I function as the desk clerk for short questions people have, as well as 'concierge' services offered for those who want a thorough exploration of their health history and direction to resources likely to progress their health according to their goals. Contact Us comes to me, so please do if you have questions or comments. Lumigrate is "Lighting the Path to Health and Well-Being" for increasing numbers of people. Follow us on social networking sites such as: Twitter: http://twitter.com/lumigrate and Facebook. (There is my personal page and several Lumigrate pages. For those interested in "groovy" local education and networking for those uniquely talented LumiGRATE experts located in my own back yard, "LumiGRATE Groove of the Grand Valley" is a Facebook page to join. (Many who have joined are beyond our area but like to see the Groovy information! We not only have FUN, we are learning about other providers we can be referring patients to and 'wearing a groove' to each other's doors -- or websites/home offices!) By covering some of the things we do, including case examples, it reinforces the concepts at Lumigrate.com as well as making YOU feel that you're part of a community. Which you ARE at Lumigrate!