SWIG: Safe Water Is Great! -- Our Special Interest Group is Named!
Brainstorming ideas for what to call our group was the focus of meeting #2, as last week's good descriptor 'flunked' on the test of acronyms that people could remember. We did better this time with having a
: SWIG -- Safe Water is Great. Do you like it? Naturally, for our purposes here at Lumigrate I can't help my compulsion to add on "and it's GRATE too!"
Drs Jeff McCloskey (D.C.) and Jim Kennedy (D.D.S.), shown on the left and right respectively, clearly were 'in their element' as we bounced ideas off each other while enjoying the perfect weather in downtown Grand Junction on the patio of Dolce Vita.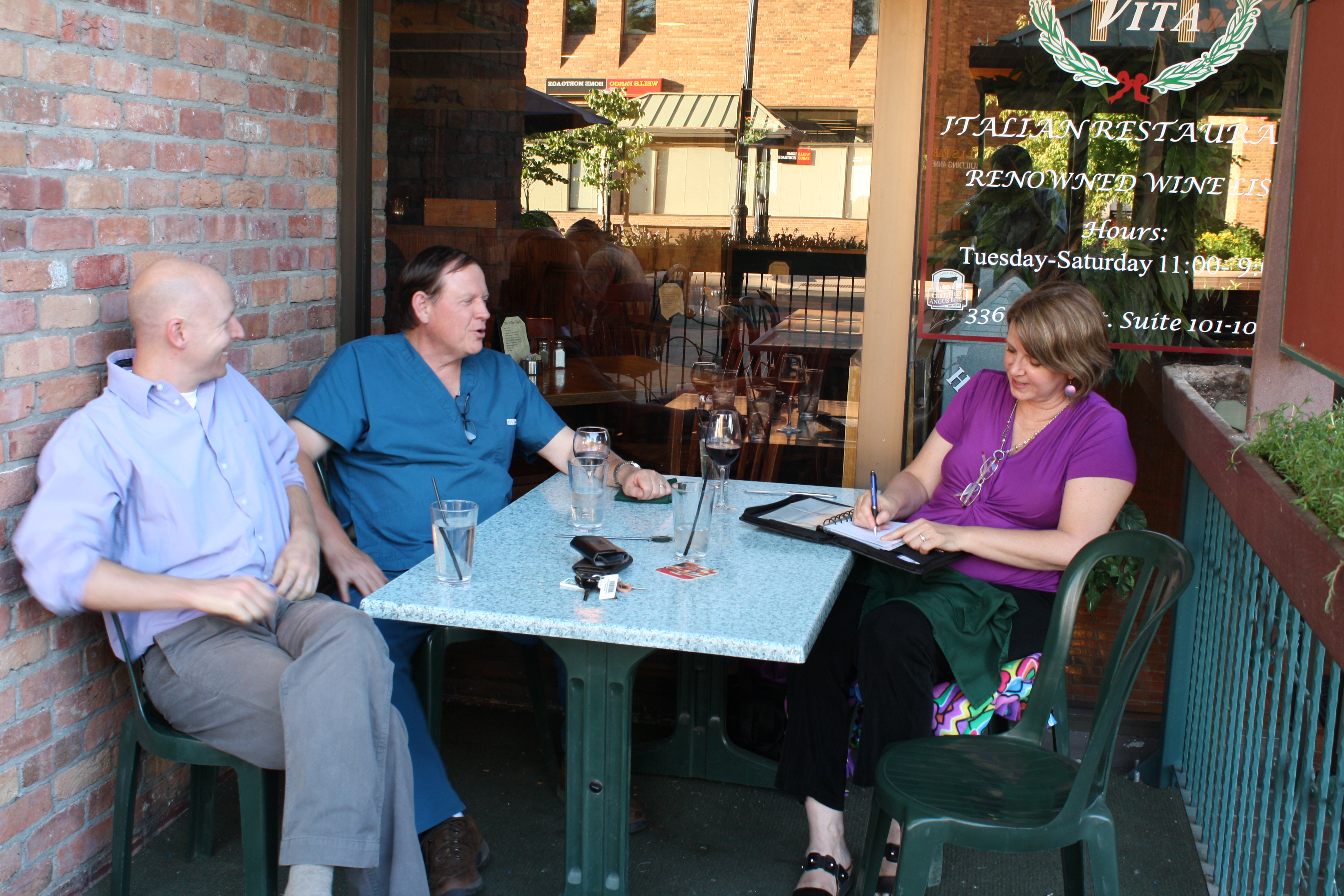 We also strategized a bit about what to do next and have a plan to pick some 'brains in the business' and have invited someone to the table for next time -- I'm currently working on merging the five of our schedules -- and then Jeff's taking the lead on drafting up a document to explain the who, what, why of SWIG, which will refer readers to Lumigrate.com for the education and further details we have collectively provided for those who wish to read in more detail. So far, two of the topics are by these two local experts, plus another two are by medical and science expert providers at Lumigrate.com, Robin Thomas of Raleigh, NC, and Wm. Marcus Spurlock, MD, of Dallas, Texas.
You can find all the topics about water, including one by me that is 46 reasons water is important to health in general, in this forum -- just navigate with the link on the right end of the 'route' getting to this topic here in forums (seen above this 'article'/topic.
My major contribution to the evening was bringing with me and introducing our new "Love Blanket"; this is shaping up to feel similar to 'The Summer of Love' from 1967, all over again.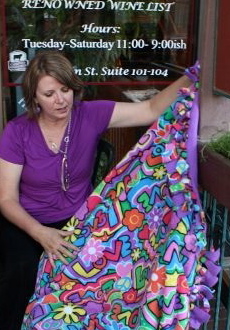 The 1960s were a time when many people questioned the old ways and brought attention to changes they thought or felt were important to become active and vocal about for moving us forward collectively.
For SWIG, educating the public about the history of flouride supplementaion and the positive and negative effects on our bodies, including our teeth, caused by the type of fluoride that has been 'fed' at the water treatment plants for decades and creating change as far as we will be able to move it forward is our contribution to the effort for improved wellness for all who consume it.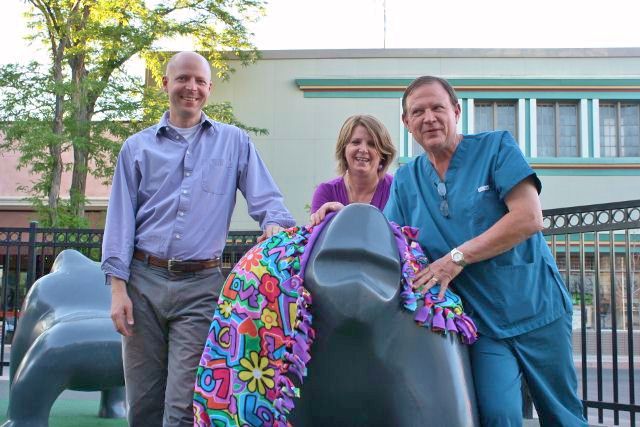 ---
Photography credits: First and foremost, credit to Jeff McCloskey, D.C. for doing such a great job grabbing the 'real photographer's' camera shown with me, below, to take a photo at my request to include Jim Campbell/ photographer (and the blankey on the gorillas) so he could be seen and get credit for his photograph/above and the others from the meeting, as he was branching from his usual form of photography to 'pitch hit' at this meeting, since my usual photographer was off doing 'summer vacation'. Our thanks to Jim Campbell, with link to his Facebook BizPage if Y-are-I: www.facebook.com/pages/high-mountain-photographycom/158347334198861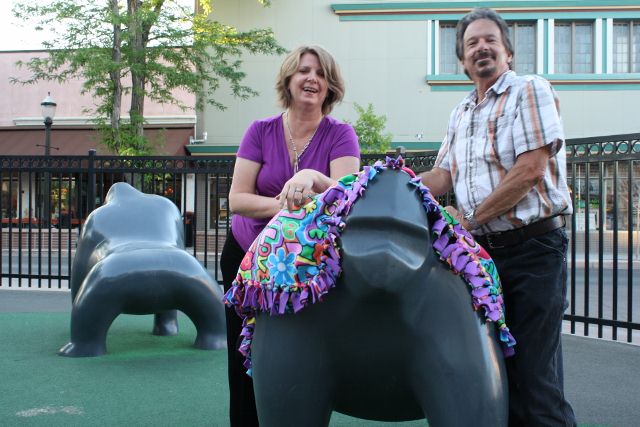 AND MOST OF ALL THANK YOU TO OUR PREDECESSORS IN ART and in GRAND JUNCTION, who have created this FUN downtown experience for us to enjoy at the end of a long day via the 'Art on the Corner' which was one of the first in the US to turn dying downtown streets into a beautiful and relaxing enterprize zone.
SWIG looks forward to making our community better for those in OUR footsteps, whether human or nonhuman... ~~ Mardy
Mardy's note: I am happy to report mid-summer 2012 that this was another step toward what has resulted in the group of four of us locally which named our group "SWIG: Safe Water is Great", we have prepared a logo, mission statement and story of the group, and we have set out navigating our way to educate people 'out there' -- locally and beyond. The three medical providers in SWIG Grand Junction, Colorado created education on Lumigrate, and then I reached out to include two medical/science experts from Lumigrate who live "beyond Colorado" too (North Carolina and Dallas, Texas).

Dr McCloskey then took the key concepts from ALL our educational pieces here at Lumigrate, after we had thoroughly discussed things over our FUN and challenging dinner conversations, and prepared a 'organization/business-level statement letter' to be used as needed in the future. I volunteered to work that into a multi-purpose "statement and story" about SWIG to post here at Lumigrate for all who come to find it.

Therefore, please follow this link to that 'key document' from our group efforts:

www.lumigrate.com/forum/swig-safe-water-great-our-official-statement

...(and I am putting a similar note in each topic we have at Lumigrate about this fluoride and water safety issue -- we have a growing number of topics, please look around if you're wanting to learn more details about fluoride and the history, topically/in toothpaste, or how we went about each step!) ~~ Mardy
__________________
Live and Learn. Learn and Live Better! is my motto. I'm Mardy Ross, and I founded Lumigrate in 2008 after a career as an occupational therapist with a background in health education and environmental research program administration. Today I function as the desk clerk for short questions people have, as well as 'concierge' services offered for those who want a thorough exploration of their health history and direction to resources likely to progress their health according to their goals. Contact Us comes to me, so please do if you have questions or comments. Lumigrate is "Lighting the Path to Health and Well-Being" for increasing numbers of people. Follow us on social networking sites such as: Twitter: http://twitter.com/lumigrate and Facebook. (There is my personal page and several Lumigrate pages. For those interested in "groovy" local education and networking for those uniquely talented LumiGRATE experts located in my own back yard, "LumiGRATE Groove of the Grand Valley" is a Facebook page to join. (Many who have joined are beyond our area but like to see the Groovy information! We not only have FUN, we are learning about other providers we can be referring patients to and 'wearing a groove' to each other's doors -- or websites/home offices!) By covering some of the things we do, including case examples, it reinforces the concepts at Lumigrate.com as well as making YOU feel that you're part of a community. Which you ARE at Lumigrate!