Neurologic Impacts Possible from Geoengineering's Nanoparticles, Concerns from Neurosurgeon and Educator Russell Blaylock, MD
Geoengineering went to the top of my list of concerns related to health and well-being, not only for people (myself included) but virtually every living thing on Earth, once I became aware mid-2013. Weather modification was one aspect of it that was certainly concerning. Effects on soils and what seeds will grow adds another level of concern, particularly for those of us who believe in non-GMO. I initially only knew the word 'chemtrail' and rapidly learned a whole new vocabulary in this rapidly evolving world of geoengineering.
This was, ultimately, an issue that forced a 'growth spurt' for me professionally AND as a medical consumer/individual, because so few medical experts in the US were aware of it at the time. I have provided information since the first month that I was studying it, in order to get 'something' on Lumigrate. I have provided it for our YOUsers, and to our medical experts if they were wanting to learn about it, as well as to my personal medical providers.
My personal expectation is that if I'm going to be giving my time/energy/money to providers, if it's pertinent to my care, I expect them to learn about it to an overall extent that they can help me and their other patients. Ultimately, that IS what the Lumigrate YOU model 'is about' is the patients being able to have a profound influence on what the providers they collaborate with know and 'do', using their medical background.
The Lumigrate YOU! model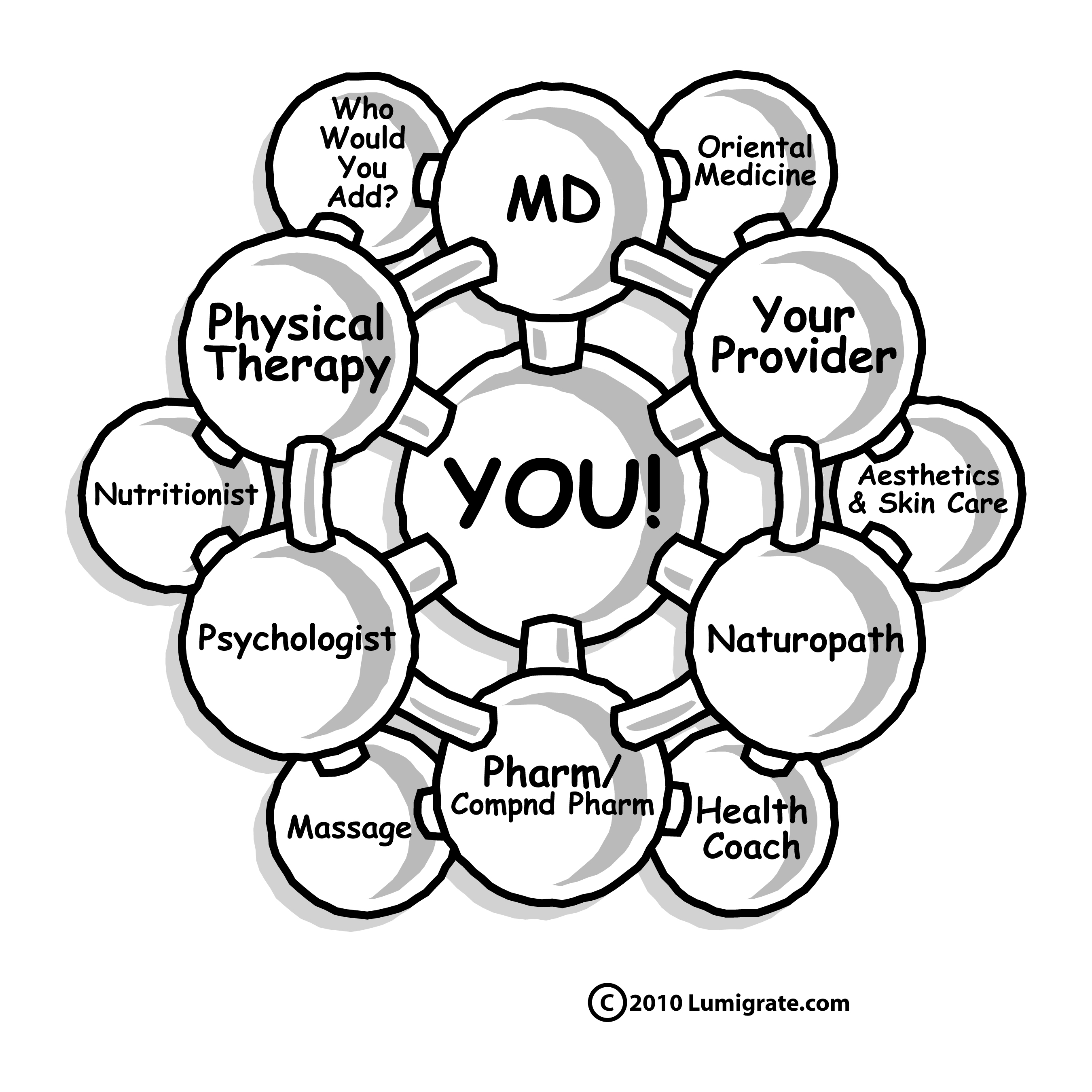 Turning to the Internet like never before (as there aren't any books out yet on health effects and geoengineering, that I am aware of, and it's not admitted to by those doing it so no published research from the normal funded research programs) and keying in search words that I'd never even heard of before, such as 'geoengineering', or 'chemtrails', in conjunction other words to find what I was wanting to learn about was like going into a foreign land. The options that resulted, I found, were fraught with what turns out to be a ton of illegitimate websites created to 'throw people off the trail' of this previously covert program. And then there would be one that I'd feel very comfortable with.
I remember learning of Dr Blaylock fairly early on in my learning about geoengineering, when still trying to piece together who was who, what was what, and who to trust. At the bottom of this topic, you will find a link or links to other topics about geoengineering at Lumigrate -- I've added onto the few that I started with and will do more 'guidance' to get people to seeing the few that I think are THE most pertinent.
Why was this doctor 'sticking his neck out', or was he part of the 'smoke and mirrors' that the program has elaborately created, and he's actually part of the plan? I held off covering him until now specifically because I created more generic information at first, but ultimately the neurological effects are a primary concern of mine. And massive numbers of people are going to be doing as I did, and turning to the Internet as they become aware of this diabolical program, and looking for information related to heath. And Dr Blaylock has simple become a 'staple' in the geoengineering-educated community. I believe he's a man to know about, to watch/listen to, and study, keeping in mind that there's a lot of working pieces that are now in motion related to disclosure and in the past related to covering up and trying to keep the masses of people from being aware and informed, which is shifting now, I believe.
I wanted to provide a topic about neurosurgeon Russel Blaylock, MD and his 'coming out' in the not too distant past and talking about the subject of geoengineering. Geoengineeing is literally 'in a vacuum' because of it's secret status within the military and overall government, not only in the United States, but all countries that have been participating. It has only recently started to be 'disclosed', that I was aware of, from mid 2013 and increasingly recently.
I also wanted to provide the information from a website that I am comfortable with directing you to related to Dr Blaylock and geoengineering. There are MANY Internet sites where information about Dr Blaylock appears related to geoengineering if you Search, and many of them are simply 'not my kind of website'. Collective Evolution is different, so that is who I have selected for this topic, you will see, below -- just a partial topic and link to encourage you to go to the website (where they have video embedded as a good overview).
Under that, I also provide the link to Dr Blaylock's website (which is very basic) and have brought from there his biographical information so it's right here and you don't have to make the trip with a link to view his credentials. There are also a couple of YouTube links to listen to/view if that is your preferred means of learning.
This is going to become less and less of a 'controversial' topic as the disclosure process continues, and it's entirely possible, considering the way that Dr Blaylock came out talking about geoengineering relatively recently, that he is also part of the planned 'rollout' of the disclosure to the public. The further you are from being an 'insider', the more difficult it is to ascertain what the motives are, what the 'politics' are, and who and what all is involved.
I've always approached the subject here and on social media, as well as personal conversations in the live world, by relating that we have enough evidence to know that it is going on, we know there has been a lot of propaganda, 'shills' and 'naysaying' being broadcast it in order to keep it from having more people finding out or 'embracing it'. Since the possible health effects are so substantial, it was important to cover this subject from as soon as I possibly could, here at Lumigrate for the YOUsers who seek this type of information.
Ultimately, I believe it's more important to keep all that "stuff" about motivations of who is involved and why, and study as much as you're inclined to do (I hope I provide good directions to go to make that easier and faster for YOU), but ultimately focus on WHAT YOU CAN DO for yourself and others you care about, particularly if you are responsible for them. (This extends beyond humans in my opinion, for any pet owners out there.) So far, mostly what I see Dr Blaylock speaking about is his concerns for the health effects from geoengineering, and helping to make people aware and concerned for health effects.
Then, ultimately, there are many things that 'outside the box' medicine has known how to do for these types of toxic exposures, and it's ultimately the type of information that Lumigrate has been covering since day 1 back in 2009, environmental medicine, functional medicine, and addressing it with an integrative medicine approach. It will be a matter of YOU, the YOUsers of all the bodies out there, as always, getting proactive about what they have control over. There is an overall tendency for people in the US (and beyond) to overlook the enormous amount of control they have over what affects their wellness. It's often things they've learned, as well, and simply have not implemented.
In other words, this issue initially seems like an overwhelming foreign topic when a person initially learns about it, but ultimately if you realize it's basically a ton more 'chems 'n' EMs' (electromagnetics) that we were aware of previously, which is a huge 'load' that burdens the body, and you study our topic at Lumigrate by Dr Marc Spurlock (MD) on "load theory" and the information we've presented over the years at Lumigrate, AND DO WHAT YOU decide resonates with you for your well-being, you might find that you have better wellness than before you learned of the program and made changes.
Note about "the disclosure" I referred to, above: The best example I have to share so far about disclosure is found if you Search on The Colbert Report's website for 'geoengineering', looking for a mid December 2013 interview with David Keith, PhD.
---
Neurosurgeon Voices Health Concerns Over Geoengineering and Chemtrails
Posted November 1, 2013, written by Arjun Walia at CollectiveEvolution.com (see link, below, and go see it all!)
Chemtrails. When you hear the word you might instantly correlate it with 'conspiracy theory,' but this couldn't be further from the truth. Just because a neurosurgeon speaks out about them does not constitute it as truth. We don't base our evidence of somebody observing lines in the sky and instantly deeming them as harmful chemicals designed to increase the rate of human ailments as proof. Although there is much merit in observing a phenomenon and listening to your inner voice/intuition to see if something doesn't seem right, there is also merit when it comes to factual evidence regarding the chemtrail phenomenon and that is why more people within the mainstream world are choosing to speak out. It's clear that chemtrails are very different from contrails.

Not long ago, former British Columbia Premier Bill Vander Zalm said that "chemtrails are happening all over the world," and now Neurosurgeon Russell L. Blaylock is getting involved. Obviously they wouldn't be making such public statements if there wasn't any evidence to back it up. These are two of many 'credible' people within the mainstream world that've come forward as of late.

Dr Blaylock has voiced his concerns about nanoaluminum, neurodegenerative and the neurodevelopment effects of chemtrails(9). This article outlines some of the evidence regarding chemtrails aimed to illustrate that there is a reality behind this 'conspiracy'. It is definitely something the public should be made aware of.


My major concern is that there is evidence that they are spraying tons of nanosized aluminum compounds. It has been demonstrated in the scientific and medical literature that nanosized particles are infinitely more reactive and induce intense inflammation in a number of tissues. Of special concern is the effect of these nanoparticles on the brain and spinal cord, as a growing list of neurodegenerative diseases, including Alzheimer's dementia, Parkinson's disease, and Lou Gehrig's disease (ALS) are strongly related to exposure to environmental aluminum (9).

It's called geoengineering (0)(4)(5)(6), which are methods developed for the purpose of weather modification. Geoengineering programs have been put in place by multiple universities around the world (1) and as a result the techniques used to to combat climate change are being called into question by many. Geoengineering projects are now being backed the CIA as well as NASA, which means most methods and techniques for geoengineering will remain classified (2)(3) under the department of defense for the sake of 'national security.'

There are multiple patents with regards to geoengineering and climate manipulation, one technique called into question is weather modification via chemical seeding (7)(8). These techniques are said to reduce atmospheric warming using the presence of heat trapping gases in the atmosphere. Materials used for these methods are oxides of metals which have high emissivity, and low reflectivity's. A major cause for concern is aluminum oxide.

If you're new to the chemtrail phenomenon, or didn't know that there is actual evidence behind it, below is a good place to start:

- See more at: www.collective-evolution.com/2013/11/01/neurosurgeon-voices-health-concerns-over-geoengineering-and-chemtrails/#sthash.C9HSwyRN.dpuf
---
Dr. Blaylock has a YouTube channel, which I encourage you to seek out. Here's a sampling of a couple of items I would suggest you start with.
A great overview topic of geoengineering overall and related to the aluminum and concerns about that related to known effects from aluminum (and the interviewer also refers on a number of occasions to the vaccines which also have aluminum in them, which is of concern of many including the two having the conversation) from NaturalNews radio show, as described below. Curt Linderman says that 40% of his audience has an interest about autism, as he 'got into this' information because his son has autism symptoms/issues. There is an INCREDIBLE amount of easy to understand, pertinent information here and probably one of the best hours on the Internet that I've found to understand a lot of information about environmental health issues and nutrition causes and strategies for returning towards wellness. Please look over Dr
"The science is on my side, not on theirs" Dr Blaylock calmy says in the interview. It's irrefutable and the strategy of the 'distractors' (who he calmly says 'it's their job, they're paid by the government programs to do this'. One of the techniques the distractors use is to disparage you, and hope to make you seem to be another of the 'kooks out there' needing a 'tin foil hat'. SO dear readers/YOUsers of Lumigrate, if you ever hear anyone talking in that tone personally or online, or read it, remember to think about that. And then remember to just let people know about Dr Blaylock and Lumigrate (or my name if you cannot remember Lumigrate, which is a melding of the words for light/lumen and the word integrate (to bring together).
Dr Blaylock produces a monthly newsletter, you can access the website for that at www.blaylockwellnesscenter.com (link is there to subscribe to the newsletter), and there are links to the many articles he has produced for journals. He mentions that his son runs the website for him. They're very technical articles, he forwarns, and that he publishes in reputable journals and cites hundreds of references typically. So 'they're there if you want to see the science', so to speak. He essentially said in this interview "I can basically bury anyone who debates this information, they typically don't know the information" (that is a paraphrasing summary of what he says near the end of this fascinating program.)
From: www.youtube.com/watch
What Chemtrails Are Doing To Your Brain - Neurosurgeon Dr Russell Blaylock Reveals Shocking Facts.
Russell Blaylock M.D·95 videos (there were 164, 881 views at the time of my bringing it here today, 1/14/14)
Linderman Unleashed Radio Show March 28th 2013 Broadcast. Curt Linderman speaks with Dr. Blaylock about the devastating health effects of the chemtrails and geoengineering programs which have been implemented in secret without public consent.

Chemtrails, Nanoaluminum and Neurodegenerative and Neurodevelopmental Effects
By Russell L. Blaylock, M.D.

The Internet is littered with stories of "chemtrails" and geoengineering to combat "global warming" and until recently I took these stories with a grain of salt. One of the main reasons for my skepticism was that I rarely saw what they were describing in the skies. But over the past several years I have notice a great number of these trails and I have to admit they are not like the contrails I grew up seeing in the skies. They are extensive, quite broad, are laid in a definite pattern and slowly evolve into artificial clouds. Of particular concern is that there are now so many ­dozens every day are littering the skies.

My major concern is that there is evidence that they are spraying tons of nanosized aluminum compounds. It has been demonstrated in the scientific and medical literature that nanosized particles are infinitely more reactive and induce intense inflammation in a number of tissues. Of special concern is the effect of these nanoparticles on the brain and spinal cord, as a growing list of neurodegenerative diseases, including Alzheimer's dementia, Parkinson's disease and Lou Gehrig's disease (ALS) are strongly related to exposure to environmental aluminum.
Nanoparticles of aluminum are not only infinitely more inflammatory, they also easily penetrate the brain by a number of routes, including the blood and olfactory nerves (the smell nerves in the nose). Studies have shown that these particles pass along the olfactory neural tracts, which connect directly to the area of the brain that is not only most effected by Alzheimer's disease, but also the earliest affected in the course of the disease. It also has the highest level of brain aluminum in Alzheimer's cases.

The intranasal route of exposure makes spraying of massive amounts of nanoaluminum into the skies especially hazardous, as it will be inhaled by people of all ages, including babies and small children for many hours. We know that older people have the greatest reaction to this airborne aluminum. Because of the nanosizing of the aluminum particles being used, home filtering system will not remove the aluminum, thus prolonging exposure, even indoors.
In addition to inhaling nanoaluminum, such spraying will saturate the ground, water and vegetation with high levels of aluminum. Normally, aluminum is poorly absorbed from the GI tract, but nanoaluminum is absorbed in much higher amounts. This absorbed aluminum has been shown to be distributed to a number of organs and tissues including the brain and spinal cord. Inhaling this environmentally suspended nanoaluminum will also produce tremendous inflammatory reaction within the lungs, which will pose a significant hazard to children and adults with asthma and pulmonary diseases.

I pray that the pilots who are spraying this dangerous substance fully understand that they are destroying the life and health of their families as well. This is also true of our political officials. Once the soil, plants and water sources are heavily contaminated there will be no way to reverse the damage that has been done.
Steps need to be taken now to prevent an impending health disaster of enormous proportions if this project is not stopped immediately. Otherwise we will see an explosive increase in neurodegenerative diseases occurring in adults and the elderly in unprecedented rates as well as neurodevelopmental disorders in our children. We are already seeing a dramatic increase in these neurological disorders and it is occurring in younger people than ever before.
---
www.youtube.com/watch - A rather off the beaten path radio show with Dr Blaylock as the guest of what I'd consider a moderate-sounding Libertarian/religious program (it's a radio program that the poster at YouTube added graphics to. It's difficult if not impossible to find really/trully 'independent'/ or neutral information on many of these subjects, but this is some of the less 'angry' and 'factually presented' information I've seen to explain 'the system' that is at hand which then helps people understand how the geoengineering program has come to be, again with Dr Blaylock as the guest. So on this one he delves past the medical aspects into the systems involved that have created the things that are discussed in the above YouTube.
Then if you watch the information that Collective Evolution sets up on this thread, plus look over their references list, etc (and their overall website, it's a good one, I think, to know of) that whole thread is, I belive, a good overview for YOUsers here, on this subject. Yes, this will take a few hours to get through what is set up here, but trust me, it's a lot faster than trying to wade through all the information out there if you out searching on your own (or at least that will be typical for most people, we 'streamline' it for YOU!).
(Again, there are other topics in the forum area here at Lumigrate, in this forum on Environmental Medicine/Wellness/Illness, as well as the political / activism forum.)
---
Also, another YouTube from a whole separate expert, Dane Wiggington of California, which 'is a staple' recently (as it was new in 2013, I believe) about geoengineering which gets passed around social media by most of the geoengineering activists and 'peer educators' in the public sector when doing 'outreach' and 'education' (independent of, and to support what is at CollectiveEvolution, above, has had at their website as another example of a website covering this information besides Lumigrate). I thought would be helpful to share with YOUsers. I'm not necessarily sold on the flaming arrow stuff at the end of this, by the way, but I do like the idea of people becoming educated and then telling the providers around them about it. (And I provided a topic on Lumigrate for patients in the fall of 2013 to be able to broach the subject with their providers easier, or consider if that would be wise or not -- it might not be depending on the open-mindedness and ability of the provider to take information from that patient/consumer and their relationship's basis.)
www.youtube.com/watch - 2013 presentation by Dane Wiggington with an overall about geoengineering chemicals (he doesn't focus much on the electromagnetics aspect) and his concerns related to the overall environment and human health.
---
From: www.russellblaylockmd.com/ (and, naturally, please follow out to visit his website for more information. This is the About/biography (mid January 2014). (I have added some bolding and underlines for the ease of the YOUsers reading to pick out what I believe to be some of the most important things to highlight regarding Dr Blaylock's experiences and expertise.
Dr. Blaylock is a board certified neurosurgeon, author and lecturer. He attended the LSU School of Medicine in New Orleans and completed his general surgical internship and neurosurgical residency at the Medical University of South Carolina in Charleston, South Carolina. During his residency he ran the neurology program for one year and did a fellowship in neurosurgery after his residency. For the past 25 years he has practiced neurosurgery in addition to having a nutritional practice. He recently retired from both practices to devote full time to nutritional studies and research.




During his residency training he worked with the eminent neurosurgeon,

Dr. Ludwig Kempe.

Together they developed the transcallosal removal of intraventricular tumors, which is still used today. Dr. Blaylock presented their cases utilizing this technique to the Congress of Neurological Surgeons. They also developed the ventriculolymphatic shunt in the treatment of hydrocephalus. In addition, they conducted neuroanatomical studies together with the aim of developing improved approaches in vascular intracranial surgery.


He has continued a close personal friendship with Dr. Kempe over the ensuing years, who at age 91 continues to study neuroanatomy, ornithology and is an editor of a major journal on medieval studies. Of special note, Dr. Kempe climbed the Himalayan mountains at age 87, a testament of his robust health and enduring love of adventure.




It was during his residency that Dr. Blaylock did much of the primary work on intraventricular monitoring of craniocerebral trauma patients, which was reported in the scientific literature. He also worked closely with

Dr. Peter Jannetta

during Dr. Jennetta's early research on vascular compression of the cranial nerves as a cause of trigeminal neuralgia and hemifacial spasm. Dr. Blaylock was one of the first neurosurgeons to utilize high-intensity nutritional supplementation in craniocerebral trauma patients, which met with great success.





Dr. Blaylock has written and illustrated three books. The first book was on the subject of excitotoxins (

Excitotoxins: The Taste That Kills

) and how they are related to diseases of the nervous system. His second book,

Health and Nutrition Secrets That Can Save Your Life

, covers the common basis of all diseases, nutritional protection against diseases of aging, protection against heavy metal toxicity, the fluoride debate, pesticide and herbicide toxicity, excitotoxin update, the vaccine controversy, protection against heart attacks and strokes and contains a new chapter on omega-3 fats. This book has been newly revised as an oversized paperback. His third book,

Natural Strategies for Cancer Patients

, was released in April 2003 and discusses the ways to defeat cancer, enhance the effectiveness of conventional treatments, and prevent complications associated with these treatments. In addition, he has written and illustrated three chapters in medical textbooks, written a booklet on nutritional protection against biological terrorism and written and illustrated a booklet on multiple sclerosis. He has written over 30 scientific papers in peer-reviewed journals on a number of subjects.





Since the publication of his first book he has been a guest on numerous national and international syndicated radio programs and appeared on the 700 Club several times. He appeared on Nutritionally Living with Dr. Ward Bond.

Presently, he is engaged in a monthly radio program discussing his book,

Health and Nutrition Secrets

on Raymond Francis' program

Beyond Health

.

The series will run for 12 months. He lectures widely to both lay and professional medical audiences on a variety of nutritional subjects.





Dr. Blaylock serves on the editorial staff of the

Journal of the American Nutraceutical Association

and is on the editorial staff of the

Journal of American Physicians and Surgeons

, official journal of the Association of American Physicians and Surgeons. He serves on the editorial board of the journal

Fluoride,

official journal of the International Society for Fluoride Research. He has a monthly nutrition newsletter, published by NewsMax.com,

The Blaylock Wellness Newsletter

.


Dr. Blaylock serves as the medical consultant for the

Fluoride Toxicity Research Collaborative

. He was recently awarded the Integrity in Science award by the

Westin Price Foundation.

Presently, he is a visiting professor in the department of biological sciences at

Belhaven College

in Jackson, Mississippi.


At present, he is a member of the American Association of Physicians and Surgeons, the American Nutraceutical Association, the International and American Associations of Clinical Nutritionist, American College of Nutrition, American Association for Health Freedom, National Health Federation, American Academy of Anti-Aging Medicine and the Price-Pottenger Nutrition Foundation. He was recently appointed as a member of the

Scientific Advisory Panel of the Life-Extension Foundation

.
Another topic at Lumigrate that goes into all the Chems 'n' EMs for providers and the consumers to be aware of related to health impacts is at this link (in the same forum as this topic, please look around in this forum for related information which might apply to you).
www.lumigrate.com/forum/introduction-navigating-towards-wellness-despite-geoengineerings-chems-n-ems-overview-provider
__________________
Live and Learn. Learn and Live Better! is my motto. I'm Mardy Ross, and I founded Lumigrate in 2008 after a career as an occupational therapist with a background in health education and environmental research program administration. Today I function as the desk clerk for short questions people have, as well as 'concierge' services offered for those who want a thorough exploration of their health history and direction to resources likely to progress their health according to their goals. Contact Us comes to me, so please do if you have questions or comments. Lumigrate is "Lighting the Path to Health and Well-Being" for increasing numbers of people. Follow us on social networking sites such as: Twitter: http://twitter.com/lumigrate and Facebook. (There is my personal page and several Lumigrate pages. For those interested in "groovy" local education and networking for those uniquely talented LumiGRATE experts located in my own back yard, "LumiGRATE Groove of the Grand Valley" is a Facebook page to join. (Many who have joined are beyond our area but like to see the Groovy information! We not only have FUN, we are learning about other providers we can be referring patients to and 'wearing a groove' to each other's doors -- or websites/home offices!) By covering some of the things we do, including case examples, it reinforces the concepts at Lumigrate.com as well as making YOU feel that you're part of a community. Which you ARE at Lumigrate!